10 Ways to Transform Your Athleisure Outfits into Streetwear Style with Tie Dye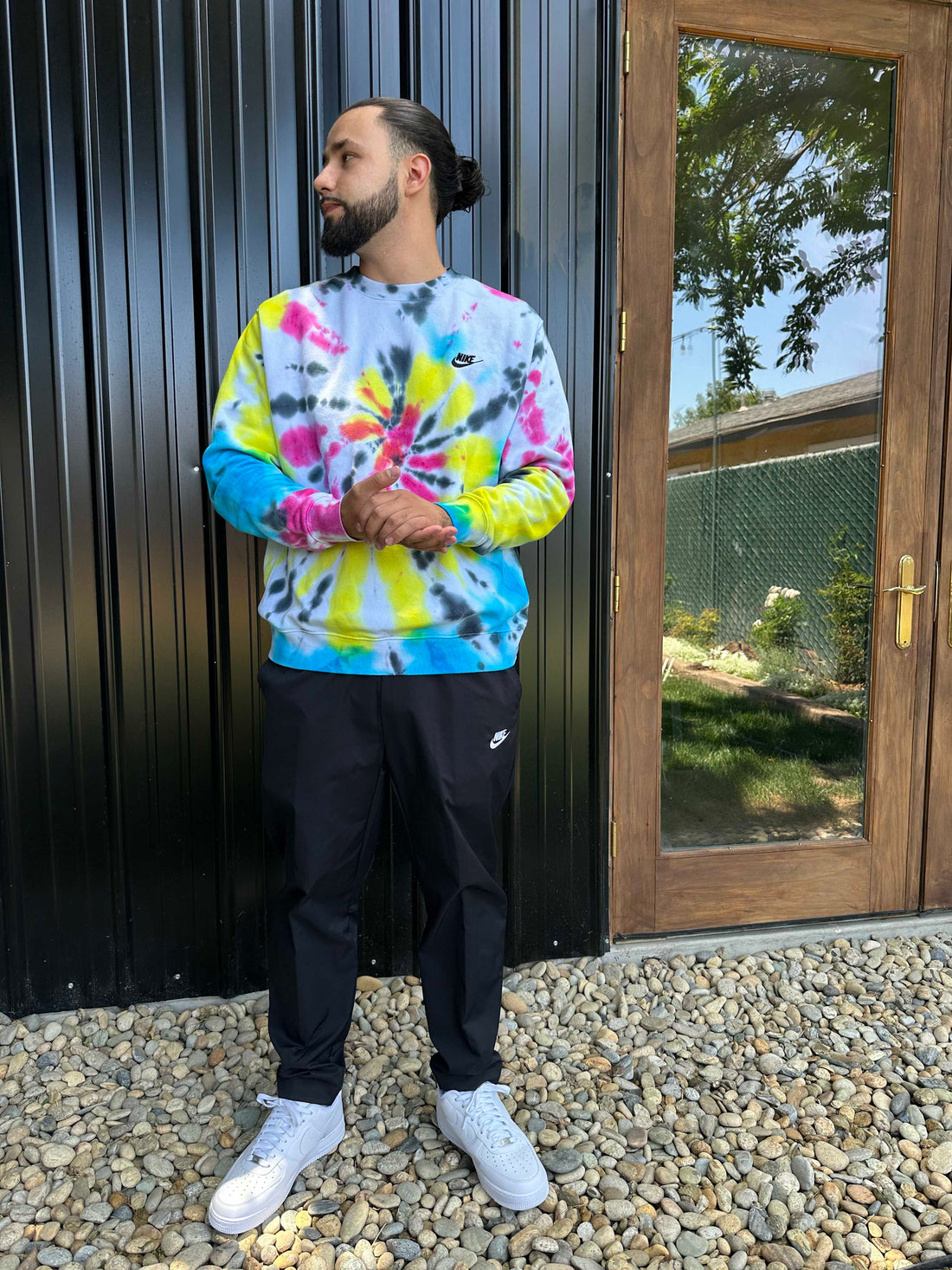 The future of work is hybrid— that means many of us are donning athleisure wear for both comfort and style. If you're bored of the basics, elevate your athleisure outfits with Tulip One-Step Tie Dye! Express your bold perspectives with even bolder aesthetics and try this trendy new take on streetwear. Your athleisure outfits will be totally transformed with maximalist tie-dye patterns!
Featured Projects:
Tie-Dye Nike Matching Set
Tie-Dye Nike Crewneck Sweater
Tie-Dye Nike Bodysuit
Tie-Dye Nike Shoes
Tie-Dye Nike Socks
Tie-Dye Biker Shorts
Tie-Dye Sweatsuit
Tie-Dye Hoodie
Tie-Dye Joggers
Tie-Dye Baseball Cap
 1. Tie-Dye Nike Matching Set
This tie-dye Nike matching set is the perfect athleisure outfit to wear all day long! Whether you're working from home, running errands, or squeezing in a quick workout at the gym, you'll feel comfy and stylish with elevated activewear. This maximalist tie-dye set uses Tulip One-Step Tie-Dye in a warm, summery palette with the crumple technique for easy tie dye patterns!
2. Tie-Dye Nike Crewneck Sweater
This athleisure outfit gets a colorful transformation with Tulip One-Step Tie Dye! This tie-dye Nike crewneck can easily be dressed up for a night out with the boys or dressed down for a chill day at home. This easy tie-dye pattern is achieved with the classic combination of fuchsia, yellow, and turquoise dyes, plus black dye for the spider tie-dye technique. The spider tie-dye pattern really makes those vibrant colors pop!
3. Tie-Dye Nike Bodysuit
A tie-dye Nike bodysuit is essential for women's athleisure outfits! We love how versatile bodysuits are—they can be worn with jeans and heels for elevated active designs, or paired with pants and sneakers for a comfy and casual feel. This super cute bodysuit uses the stripes tie-dye technique with Tulip One-Step Tie-Dye for vibrant streetwear style!
 4. Tie-Dye Nike Shoes
You can use Tulip One-Step Tie Dye on your shoes, too! These tie-dye Nike shoes are one-of-a-kind customs from Jeff Puryear, and they totally capture the essence of tie-dye streetwear style. Create your own tie-dye shoes to wear with your favorite athleisure outfit for a colorful finishing touch!
 5. Tie-Dye Nike Socks
Tie-dye Nike socks are a fun way to express your creativity and complement your athleisure outfits at the same time! Socks are super easy to tie dye with Tulip, so you can make a unique pair for every day of the week. We love the way @shopsomemo coordinated his socks to match his Nikes— his maximalist streetwear style is full of colorful tie-dye patterns!
6. Tie-Dye Biker Shorts
Tie-dye biker shorts are a summer athleisure outfit staple! Not only are biker shorts comfortable, but they're easy to style in various ways. This matching set uses Tulip One-Step Tie Dye with the ice dye technique for soft watercolor designs. Tie-dye biker shorts are great for use beyond the gym— you can pair them with baggy sweaters, an oversized T-shirt, or even a bralette and blazer for elevated streetwear style!
7. Tie-Dye Sweatsuit
Tie-dye sweatsuits have got to be one of the coziest streetwear style trends! This athleisure outfit uses the Tulip Wilderness One-Step Tie-Dye Kit for an earthy, nature-inspired palette. Whether you're working out or binging your favorite TV show, a stylish sweatsuit is perfect for your everyday activities!
8. Tie-Dye Hoodie
Who doesn't love a good tie-dye hoodie? Hoodies are great because they can easily be matched with your existing wardrobe essentials for effortless streetwear style— and they just make you feel extra cozy! Use your favorite Tulip One-Step Tie Dye Kit to add vibrant color to your hoodies; this easy tie-dye pattern uses the stripes technique for fun color blocked designs!
9. Tie-Dye Joggers
What makes a comfy pair of joggers even better? Tie dye, of course! These joggers use the Tulip Shibori One-Step Tie-Dye Kit for striking yet easy tie-dye patterns. Try wearing your tie dye with other clashing prints for a maximalist vibe, or pair with a simple white tee to make your tie-dye designs stand out!
 10. Tie-Dye Baseball Cap
Some days we just want to throw our hair up into a hat and go— that's why this ice dye baseball cap is the perfect accessory for busy days! Use Tulip One-Step Tie Dye to create a tie-dye baseball cap, then wear with your athleisure outfits for streetwear style that's just as cool as you are. 
What other athleisure outfits will you transform with Tulip? Show us your tie-dye streetwear style and tag us on social media @TulipColorCrafts! For even more inspiration, check out these helpful links.