7 DIY Party Décor Ideas for your Summer Socials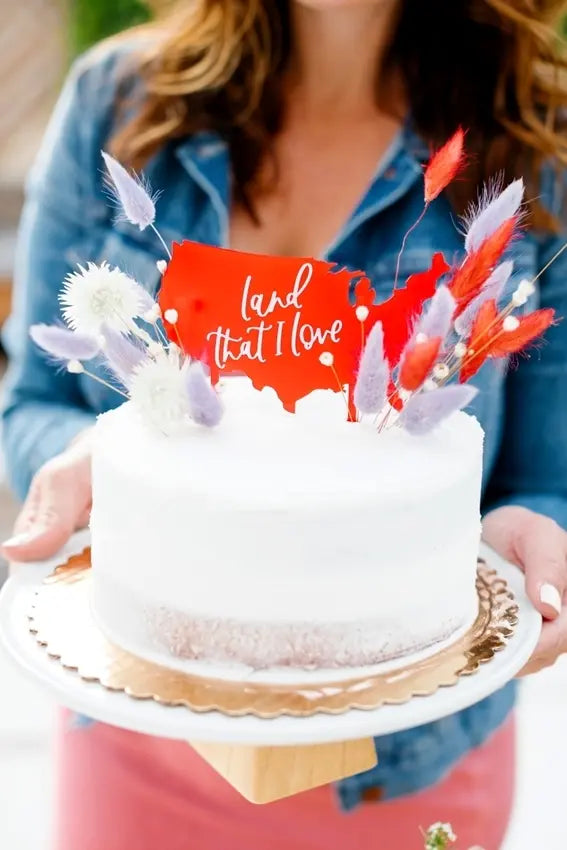 It's summer, which means it's time to kick back, relax, and spend time with friends and family! Whether you're looking for décor ideas for a low-key backyard barbecue or want to throw the sweetest summer shindig of the season, you can count on Tulip to help you customize your DIY party décor! Check out this list of summer party décor ideas and get inspired to create some colorful decorations for your next get together!
Nothing's more refreshing than an ice-cold glass of lemonade on a hot summer day! So, why not serve up some style while serving refreshments? These drink pitchers are instantly upgraded with a little Tulip Puff Paint! That's right, Puff Paint isn't just for fabrics— it can be used on your DIY party décor too!
A custom star table setting is just what you need for your 4th of July barbecue! Add some instant "oomph" to your DIY party décor with Tulip Fabric Markers— it's incredibly easy! For even more colorful fun, leave some markers out and let your guests continue to customize their table setting with their own doodles and drawings. It makes for a memorable party favor!
This floral table setting is perfect for an intimate gathering with friends! This easy DIY party décor idea lets a simple cloth napkin double as a name card with the help of Tulip Fabric Markers. Your besties will know exactly where to sit at the table, and they'll appreciate the extra touch of elegance!
You may have noticed the beautiful floral arrangements from the last few DIY party décor ideas and thought, "Where can I get a colorful bouquet like that without breaking the bank?" Fresh flowers can wilt and fade in the intense summer heat, but you don't have to worry about this bouquet—it's made from dried foliage! These flowers get their color from Tulip Fabric Dyes and COLORSHOT Premium Spray Paint and make a great centerpiece for any occasion.
Take your tie-dye party to the next level with some shibori tie-dye table settings! Those cool blue hues are great for creating a chill atmosphere, even in the heat of the summer. Make your own DIY party décor with the Tulip Shibori Tie-Dye Kit and create some matching shibori napkins and table runner. Pick up an extra tie-dye kit and let your guests have fun tie-dyeing too!
Looking for something more low-key? You can't go wrong with a tie-dye picnic blanket! Pick out some Tulip One-Step Tie-Dye and use your favorite tie-dye technique to create a one-of-a-kind picnic blanket. Coordinate with matching plates, cups, and napkins and invite your pals to the park to enjoy the atmosphere you created with your DIY party décor!
It just isn't a party without some sweets! Before you let them eat cake, make sure your guests get a good look at your customized cake topper. You can create DIY party décor like this for any occasion—just use Tulip Fabric Markers and cardstock! Hopefully your cake tastes just as good as it looks!
What other DIY party décor will you create with Tulip this summer? Share your colorful décor ideas with us on social media @TulipColorCrafts!