American Flag Dog Bandana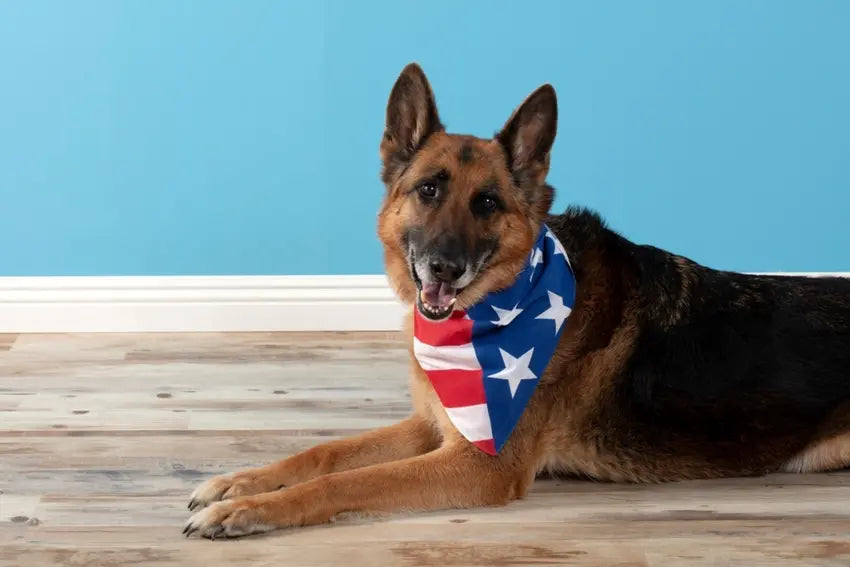 Fourth of July always calls for fireworks and fun celebrations with family and friends ... but don't forget to include your furry family members in on the festivities this year! They'll love showing off their own patriotic spirit in stars & stripes style with this pawsitively adorable DIY American Flag Dog Bandana made with Tulip® ColorShot Instant Fabric Color. It's so easy to DIY, you might just want to make one for everyone in the fam - furry and non-furry alike! 
What you need:
- Tulip ColorShot Instant Fabric Color - Red and Blue
- White bandana
- Freezer paper
- Pencil
- Craft knife or scissors
- Iron
- Disposable plastic table cover
- Protective piece of plastic (like a garbage bag or section of tablecloth)
- Star pattern (if needed)
- Painter's tape
Cover your work surface with a plastic table cover to protect from overspray. On a piece of freezer paper, either freehand draw or use a star pattern to trace desired number of stars onto unwaxed side of freezer paper. Use a craft knife or scissors to cut out stars.
Fold bandana in half diagonally and press with a hot iron to create a crease along the fold. This will be a guideline for your design. Place strips of painter's tape about 1" apart on one side of the fold to mask off stripes. 
Place freezer paper stars waxy side down on the other half of bandana and use a hot iron to iron in place. This will create a temporary adhesion to the fabric to mask off star shapes from the fabric spray paint.
Cover the striped section with a protective piece of plastic (a garbage bag will work, or a section of the tablecloth you are not using). Tape down the plastic along the fold. Spray several light coats of blue ColorShot over the exposed portion of the bandana, spraying directly over the star shapes as well. Note: It's better to spray several light coats versus one heavy coat for best results. Let dry and remove the freezer paper stars.
Cover the star section of the bandana with protective plastic and tape down along the fold. Spray several light coats of red spray paint over the exposed fabric in the striped section. Let dry and remove the strips of tape.
ColorShot dries flexible and can be washed after 72 hours, but your pet (or your fam) can wear the bandana once it's completely dry!
Forget the fireworks ... your dog will definitely be the life of the party in his new patriotic pet bandana!