Americana Fashion DIYs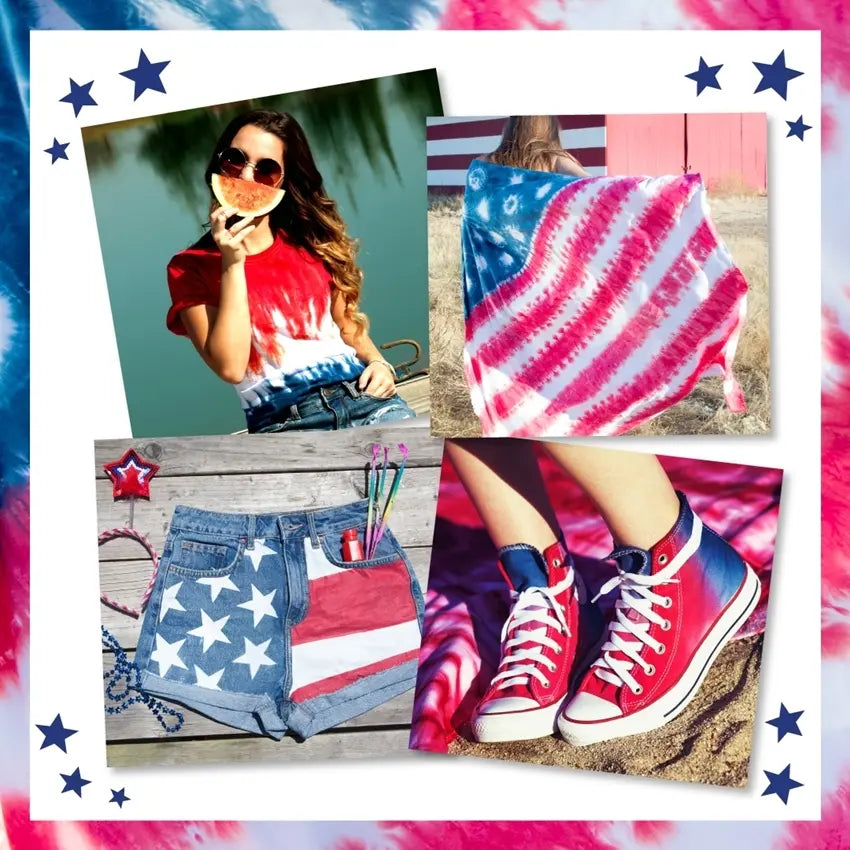 However you're celebrating the 4th this year, do it with flair like fireworks using red, white & blue color products from Tulip! Perfect for Independence Day or any day of the year, this roundup of easy Americana fashion DIYs will have you showing your patriotic side in star-spangled style.
Whether you are chilling lakeside, poolside or stuffing your face during a backyard barbeque, this firecracker tie-dye T-shirt is the perfect thing to wear for Fourth of July. And it is super easy to make too! Check out our firecracker tie-dye technique and get inspired to beat the heat with the coolest red, white & blue tie-dye T-shirt around.
Denim cutoff shorts are basically a summer essential; take yours from simple to a pair that'll have everyone starry eyed with Tulip Brush-On Fabric Paints! (These paints are made specifically for fabric, so they'll dry permanent, flexible and washable.) Get the easy tutorial here and get ready to wow your crew with your DIY skills and your fab Americana fashion.
If you're going anywhere but the pool this Fourth of July, you're definitely going to need a pair of shoes. Use tie dye to make kicks that pop with patriotic flair! Tie Dyeing a pair of shoes is super easy, especially when you're going for an ombré look like shown here. You can squeeze the dyes onto the shoes directly from the bottles, or pour into plastic cups and brush them on with a paintbrush for a more precise application. Have fun with it and just make sure your shoes are made from canvas (cotton) for best results!  
Perfect to use as a blanket for relaxing on while watching fireworks, or even as a swimsuit wrap, this American flag tapestry is the essential Fourth of July accessory! Check out this tutorial to see how you can easily create some stars & stripes action on simple white fabric. We hope you are now feeling inspired by all of this awesome Americana fashion! What looks will you create for celebrating the Fourth?