Anti-Valentine's Day Candy Hearts Shirt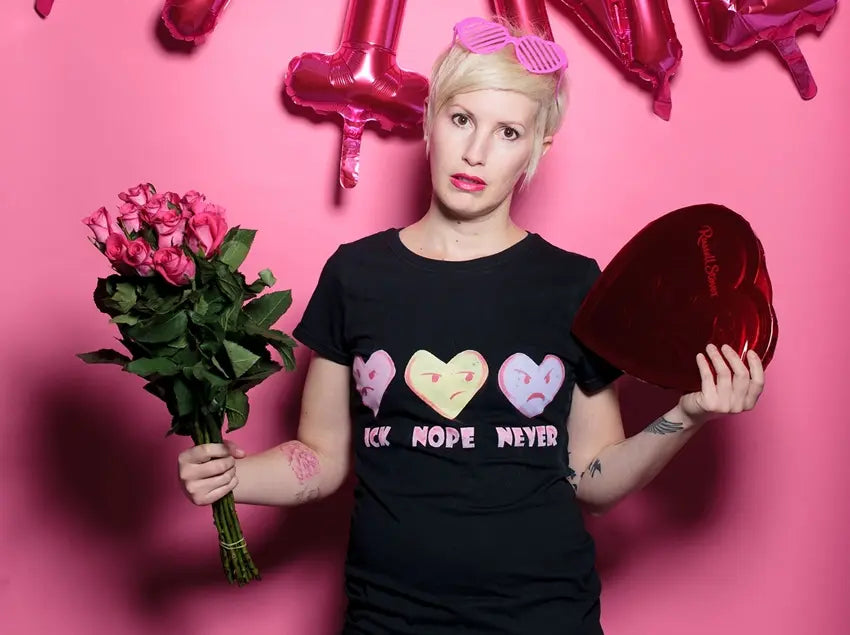 Not everyone loves Valentine's Day! Show off your silly sense of humor with this anti-Valentine's Day T-shirt decorated with hearts that aren't so interested in a conversation. Get the look with Tulip® Soft® Fabric Paint and a DIY freezer paper stencil.
Iron a large piece of freezer paper to inside front of shirt. This creates a stable painting surface.
On another large piece of freezer paper, sketch three hearts in a row, and desired anti-Valentine's Day words below each. Or trace pattern onto freezer paper if desired.
Use craft knife to cut out hearts and wording to create stencil, then iron stencil onto front of shirt.
Use cosmetic sponge to apply Glacier White Soft Paint onto open stencil areas. Let dry.
Mix Glacier White with Sunshine Yellow, Petal Pink and Grape to create a pastel shade of each. Sponge each color onto one of the heart openings.
Add some Glacier White to Crimson Red and sponge the muted color onto the wording. Remove stencil and let dry.
Use the paintbrush to create facial features on the hearts with the muted Crimson Red. Add accent lines around the hearts. Let dry completely.