Artist Abigail Reeves uses Tulip Puff Paint on Everything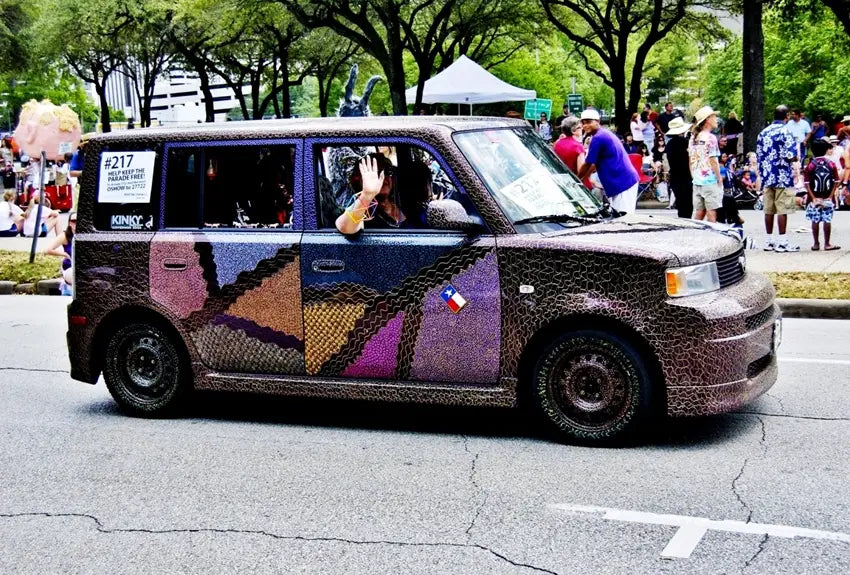 How much do you enjoy creating with Tulip Puff Paints? We're big fans, of course, but artist Abigail Reeves might love them even more than we do! Our team recently chatted with Abigail about her Puff Paint creations, and when we say she uses them on everything, we aren't kidding. From her home décor to yard art, and even her car, we're excited to share Abigail's creative work with you. Check out her story and get inspired to think outside of the craft box with your own Puff Paint collection!
Abigail has always been crafty, painting, drawing and creating in general from the time she was very young. Her interests have varied from ceramics to crochet, but "The largest constant has been what I do with Tulip paints," she said. "I love that I can draw with them and they add such a tactile quality to anything I make." Abigail began using Tulip Puff Paints in the 1980s to decorate clothing.
She lost interest in painting T-shirts after a short while, and moved on to painting wood. "Since the 1970s, I loved painting on wood. I still had lots of bottles of Tulip paints after the T-shirt phase, so I began experimenting with them on wood."
Abigail also started making and painting bottle trees with Tulip Puff Paints. "I was never interested in bottle trees before, but when I hit on the idea of painting the bottles, I was off to the races!" She exclaimed. "I love the way they look, and they look that way because of Tulip paints." Abigail said that even through snow, ice and cold, her bottle trees look newly decorated.
The more Abigail worked with Puff Paints, the more she integrated them into everything she created. Her artistic flair also extended to turning cars into art for Houston's annual Art Car Parade, which has been one of the city's most popular events for the past 34 years.
"By the time I got rid of my first art car, I decided to add just a little bit of [Tulip] fabric paint to my new Geo Tracker. After all, I could not know how it would hold up on a car finish. After 11½ years, the enamel paint I had used on my car definitely showed signs of wear, but the Tulip paint looked like I had put it on yesterday," she said.
"I knew my next car would be completely done in [Tulip] fabric paints!"
"The colors I put on in May 2005 are just as vivid and true as the day I put them on," Abigail went on to say. "People who stop me at gas stations or parking lots asking me about my car are astounded at how old the paint job is, and how well these paints hold up."
"Ultimately that is the message I try to spread with my car: Tulip paints are NOT JUST FOR FABRICS! They work on so many different surfaces."
"Like anything else, it just takes trying these paints and realizing all of the different applications," Abigail advised.
Abigail also loves personalizing picture frames with Puff Paint.
What does Abigail most want others to know about Tulip Puff Paints? "Tulip is great on any surface. It can add detail and dimension to anything!" 
We'd love to see your Puff Paint creations, so make sure to share them with us! You can email our customer loyalty team, or tag us on social @tulipcolorcrafts.