Celebrate National Donut Day with Tulip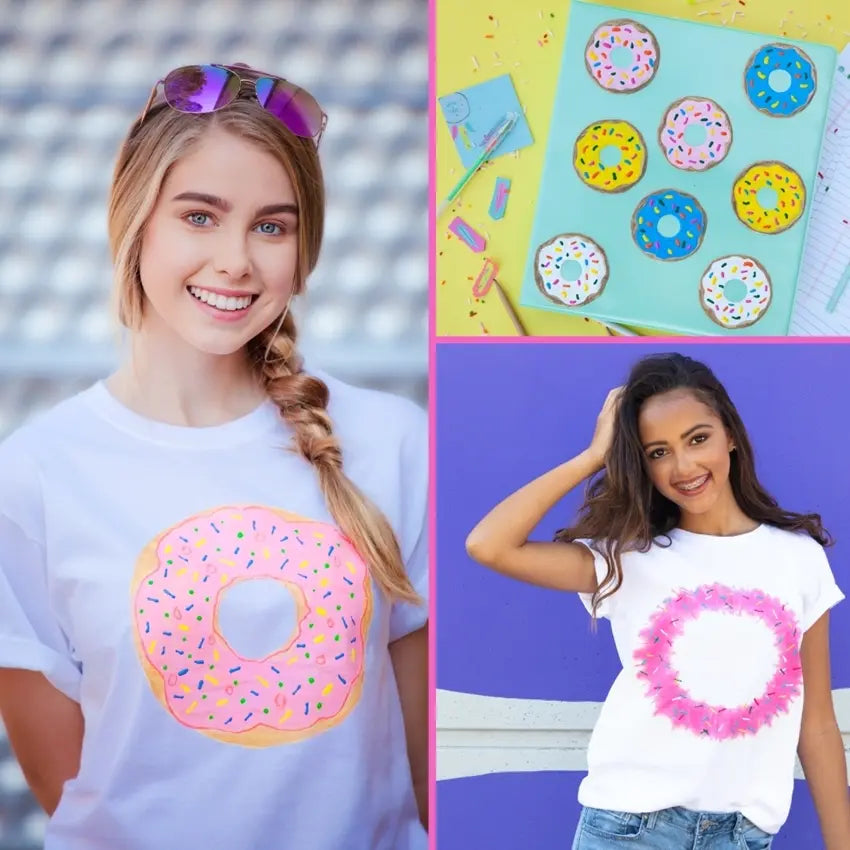 National Donut Day is June 5, and we couldn't be happier about it. At Tulip we celebrate donuts regularly (really, is there anything better than a doughy, frosted, sprinkled treat?!) and National Donut Day is just one more reason to indulge. Combine donuts with our love of crafting and it's the perfect day! To celebrate this all-important holiday, we've put together a roundup of some of our favorite donut-themed DIYs made with Tulip Color Products. We hope the following projects help you get inspired to work up your creative appetite!
These donut clings look almost good enough to eat, don't you think?! Fun for decorating laptops, binders, windows and more, donut clings are easier to make than actual donuts using Tulip Dimensional Paints. To make your own clings, slide a donut pattern you can print from online into a plastic sheet protector, then trace over the designs with Dimensional Paint. If you mess up, you can simply wipe the paint off with a damp paper towel and start again. Once your clings are completely dry, it's time to tack them onto your surface!
The next best thing to eating a donut is wearing one! If you weren't aware that you can tie dye a donut T-shirt, now you know. It's super easy to do, and once you have your dyed donut shape, the only thing left to do is add sprinkles with Dimensional Paint! Get the full tutorial here on our Tie Dye Your Summer website.
Just like donuts, you can never have too many handbags, and a donut clutch is the icing on top if you ask us. We love this sweet DIY from our friend Mikyla Creates, which uses Tulip Fabric Markers on simple white fabric to create such a fab little bag you can take on any adventure. Check out the tutorial here and get ready to add to your handbag collection with this treat of a project.
If you don't have any tie dye on hand for the project above, here's a great alternative. This donut T-shirt can be made with Tulip Fabric Markers alone or using Tulip Brush-On and Dimensional Fabric Paints. You can lightly sketch on your design with a chalk pencil if you don't feel comfortable freehanding it, then color it in with markers or paint. If you want your sprinkles to really pop, use Dimensional Paints for ultra 3D effects! Who's ready for some treats after all of this creative brain food?!