Dimensional Paint Mother's Day Gifts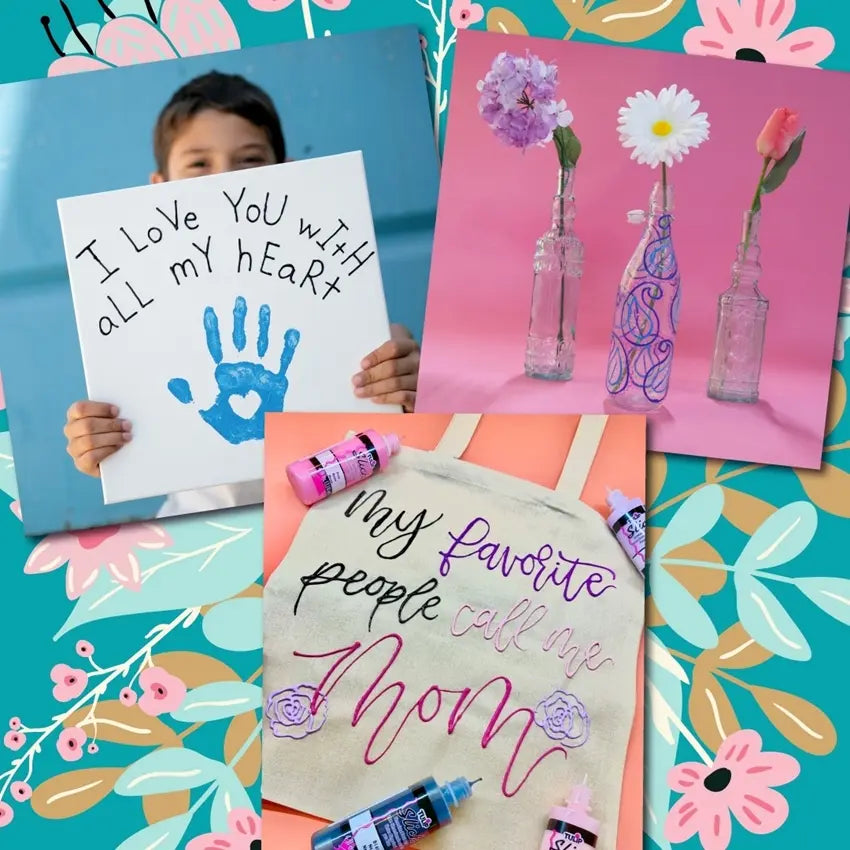 Mother's Day festivities are probably looking different for all of us this year, but we can still capture Mom's heart with sweet sentiments that stand out in colors she loves! Whether your mom loves art, functionality or a little bit of both, you can celebrate her with a handmade gift that'll be a keepsake for years to come. Here are a few DIY Mother's Day gift ideas made with Tulip Dimensional Fabric Paints to get you inspired for every mom on your list! 
What you need:
- Tulip Dimensional Fabric Paint in desired colors
- Surface to paint on (canvas, vases, tote bag, etc.)
Flowers are always a great way to brighten any mom's day; take it a step further with custom painted vases to go with her blooms! Use Tulip Dimensional Paints to decorate glass vases with pretty accents that vibe with your mom's style, like paisley shown here, or hearts, henna or even more florals. Get creative and have fun with it; what she'll love most is such a special handmade gift!
Because she's a mom, and moms are pretty much always prepared, a tote bag is never a bad gift idea! Between running errands, hauling extra stuff around for the kiddos, shopping, and more, sometimes a tote bag is just what your mom needs. Personalize it with Dimensional Paint in quote art she'll definitely be into, and this is one Mother's Day gift you'll have in the bag.
What mom doesn't love artwork from her little one? This quote art handprint canvas - complete with her baby's actual painted handprint - is sure to give any mom the feels this Mother's Day. (And any time she looks at such a sentimental piece of art.) Round up the little one(s) and get creative on a canvas with Tulip Dimensional Fabric Paints for a Mother's Day gift she'll cherish for always.