DIY Watercolor Ombré Dye Puffer Jacket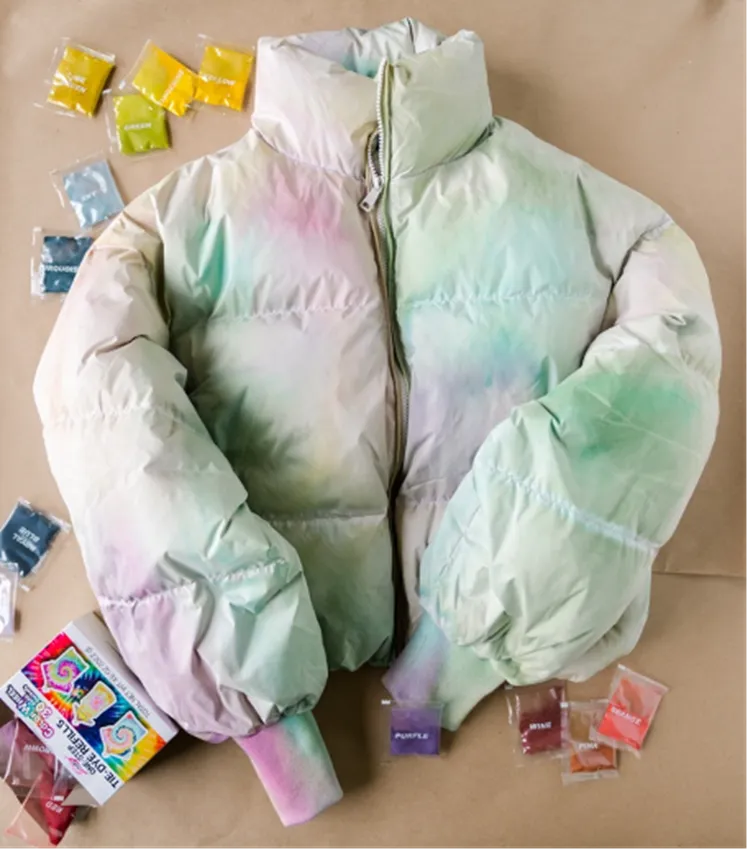 Tie dye isn't just for summer! Add a pop of color to your winter wardrobe with ombré dye. This tutorial from Oh Yay Studio will show you how to customize a winter coat with watercolor ombré effects using Tulip Tie Dye. The Tulip Color Wheel One-Step Tie-Dye Refills are perfect for this craft— you'll have plenty of colors to choose from so that you can really personalize your project!
What you need:
Tulip One-Step Tie-Dye Refills Color Wheel 30 Pack
Puffer jacket or other winter coat (NOTE: Dye is most vibrant on 100% cotton, rayon, and silk)
Large tub and wire rack
Empty Tulip One-Step Tie-Dye Bottles
Plastic gloves
Plastic wrap or plastic bag
Protective surface cover
Step 1: Prepare your tie-dye work station. Pick out which colors of dye you want to use from the Tulip Color Wheel One-Step Tie-Dye Refills and pour the dye powder into empty tie-dye bottles. Fill with water and shake vigorously to make your tie-dye solutions!
Step 2: Prewash your winter coat and leave damp, then place it in a large tub with a wire rack at the bottom to catch excess dye. We won't be binding and folding this project; instead, we'll manually apply the color for an ombré dye effect!
NOTE: For this project, Oh Yay Studio used a nylon puffer jacket. Although nylon is a synthetic fabric, they found it was able to retain dye well enough to create this project! Remember, Tulip One-Step Tie-Dyes are most vibrant on natural fiber fabrics, such as 100% cotton, rayon, and silk.
Step 3: Slowly apply the dyes to your jacket. The key to creating smooth ombré dye effects is to reference the color wheel! Dye colors should be applied next to similar colors (blues next to purples and greens, oranges near yellows and reds, etc.) to avoid muddying and turning brown. Use gloved hands to work the dye into the fabric as you go.
Step 4: Once you're done dyeing your jacket, either cover the tub with plastic wrap or gently transfer the jacket into a large plastic bag— just make sure your jacket isn't sitting in excess dye. Allow to sit 6-8 hours, then rinse, wash in cool water with a little laundry detergent, and dry. Your ombré dye puffer jacket is now ready for your cold weather adventures!
What other winter fashion trends will you try with ombré dye? Show us your colorful creations and tag us on social media @TulipColorCrafts!