Easy Christmas Craft: Faux Gingerbread House with Puff Paint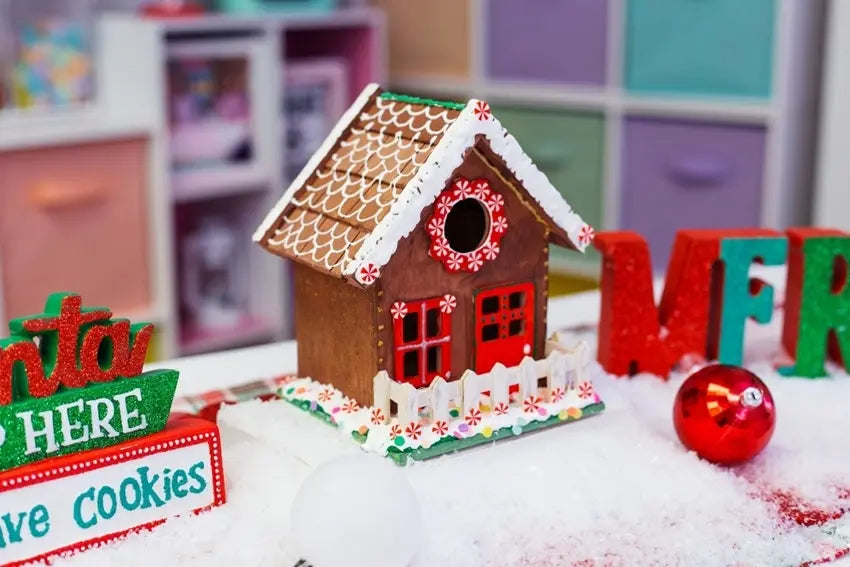 'Tis the season for holiday decorations! Making your own gingerbread house can be fun, but it can also be really challenging. After a few days, the cookies and icing go stale and you have to throw it all away! Luckily, we've got a solution for this festive faux pas: Tulip Puff Paints! This easy Christmas craft from Craft Box Girls will show you how to create a faux gingerbread house with a simple birdhouse and Tulip Puff Paints. You'll be able to keep and reuse it as a lovely holiday decoration for years; the only trade-off is that this gingerbread house isn't edible!
What you need:
Raw wood birdhouse
Paintbrush
Paint palette or paper plate
Faux peppermint sprinkles
Gather the supplies for this easy Christmas craft! Use Tulip Paints in classic holiday colors— such as red, green, brown, gold, silver, and white— to create a faux gingerbread house.
Squeeze your Brush-On Fabric Paints onto a paint palette or paper plate for easy access. Begin to paint your faux gingerbread house's base colors— brown for the roof and walls, red windows, green grass, and a pretty white picket fence. Allow to dry completely.
Here's where this easy Christmas craft gets its holiday kick! Use Puff Paints to decorate your faux gingerbread house in the same way you'd use icing. Start by squeezing your white Puff Paint onto the roof to create snowy shingles.
Tulip Puff Paints have a fine tip for precise application and dry permanent and dimensional, so you can get that sweet icing effect without all the mess! As tasty as your faux gingerbread house may look, please remember that this project is not edible.
Use Puff Paints to decorate the rest of your faux gingerbread house! For this easy Christmas craft, Craft Box Girls also used faux peppermint sprinkles, secured into place with a small dab of paint. Personalize your faux gingerbread house with unique Puff Paint details and designs!
Once all of the paints have dried completely, you can proudly display your faux gingerbread house! This easy Christmas craft can be brought back out year after year as unique holiday décor.
What other easy Christmas crafts will you create this holiday season with Tulip? If you make your own faux gingerbread house with Puff Paints, show us on social media @TulipColorCrafts!