Easy Painted Pumpkins for Halloween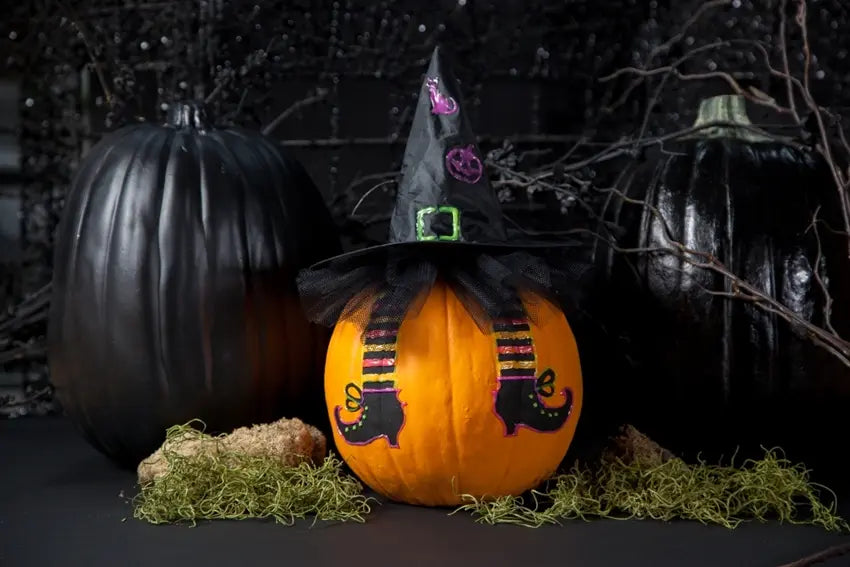 Is anyone else ready for Halloween, or is that just us? Bring on the crazy cool costumes, awesomely eerie décor, candy corn and pumpkins galore! Since we have all things ghoulish on our minds, we figured you might too, so we created this roundup of ideas to help get you in the spooky spirit of Halloween. Put away the carving tools and pick up some Tulip Puff Paints for these easy painted pumpkins everyone in the fam will scream with delight over!
What you need:
- Tulip Puff Paints of choice
- Faux pumpkins in desired sizes
- Halloween-themed stencils
- Paintbrushes
- Fabric accents
- Craft glue
Get out the gauze and get ready to wrap up easy painted pumpkins that'll have trick-or-treaters screaming for their "Mummy" when they show up! Add facial features like googly eyes and Puff Paint mouths, then wrap in gauze and chains for a super simple way to add some spookiness to your front porch.
Into ghoulish glow? So are we! Use glow-in-the-dark Puff Paints to bring your pumpkins to life decorated as your favorite critters. Create tails and wings with fabrics or cardstock for a set of easy painted pumpkins that are the cat's meow.
If freehand painting isn't your jam, stencils are an easy way to go! Paint on your favorite Halloween wording, creepy crawlers or even deck out your painted pumpkins in designer patterns. It's the easiest way to create pumpkins that make a statement!
While you're perking up your porch, add some creative magic to your mantle too! Make your own easy painted pumpkin Halloween wreaths with embroidery hoops and themed fabric. Then use Puff Paint to decorate with jack-o-lantern faces, quotes and more, for colorful wreaths that are sure to be your favorite new décor! 
Who said Halloween can't be glamourous? Use metallic paints, sequins and sparkle to create easy painted pumpkins that'll add some boo-tiful bling to your Fright Night festivities.
Light the night with easy painted pumpkins decorated in an enchanting glow! Use Puff Paint to create ooey-gooey glowing drips or a BOO that stands out with haunting flair.
Can't decide which kind of design to paint on your pumpkin? How about a witch? Paint on details and top with a pointy hat for an easy painted pumpkin that's spellbindingly creative.
If spooky isn't your style, try sweetening things up with easy painted pumpkins that look like donuts instead of devilish décor. They'll be a treat for your senses while you're treating yourself to some Halloween candy!
We hope these painted pumpkin ideas have you inspired to make your Halloween extra creative this year. Don't forget to share your projects with us by tagging @tulipcolorcrafts on social. Happy crafting, and happy Halloween!