Father's Day Handprint T-shirt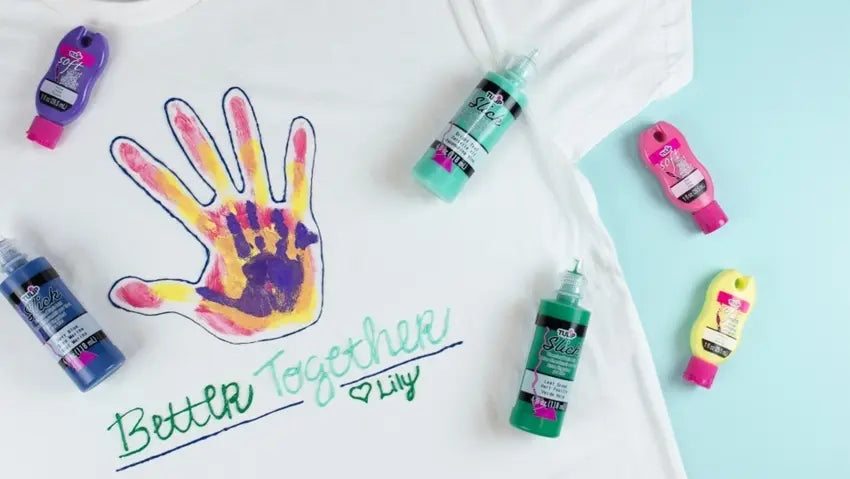 Make this Father's Day one to remember with a handmade T-shirt he'll love to wear even when the kiddos are grown! The Craft Box Girls show you how easy it is to get your little one in on the creative fun with nontoxic Tulip Fabric Paints and a sweet handprint design that'll have Dad handing out the hugs. 
Make sure the T-shirt has been washed and dried before painting (without fabric softener). Iron it smooth, then place a T-shirt form, a piece of cardboard or freezer paper inside of the shirt to help prevent paint from soaking through to the backside and to create a stable painting surface. If you're using freezer paper, place it waxy side up inside of the shirt and iron over the top layer of the shirt to melt the wax and create a temporary hold.
You have a few options when painting this handprint T-shirt! If the shirt isn't a surprise for Dad, get him in on the painting action and paint his hand with your base color using a foam brush and your choice of Tulip Soft Fabric Paint. Press it onto the shirt, then repeat with Mom's hand over the top in a different color. If the shirt is a surprise, Mom or another grownup can make her/their handprint the bigger base handprint before adding the child's.
Paint the child's hand and press it on top of the larger handprint base.
Use your choice of Dimensional Fabric Paint to outline the handprint design.
Grab a piece of paper or an item with a straight edge and place underneath the handprint design to help you keep your word art in a straight line (if desired). Make sure to leave enough space underneath the handprint design to write! Use a pencil to lightly write out "Better Together" or your desired phrase.
Trace over your wording with as many Dimensional Fabric Paint colors as you like! Tip: if you haven't used Dimensional Paint before, you can try practicing on a piece of scratch paper before working on your shirt design.
Underline the phrase and add your child's name to complete Dad's T-shirt. Let it dry completely before surprising him!
Dad will feel so loved this Father's Day and every day with such a sweet gift from his little one!