Five Fun Body Paint Ideas for Summer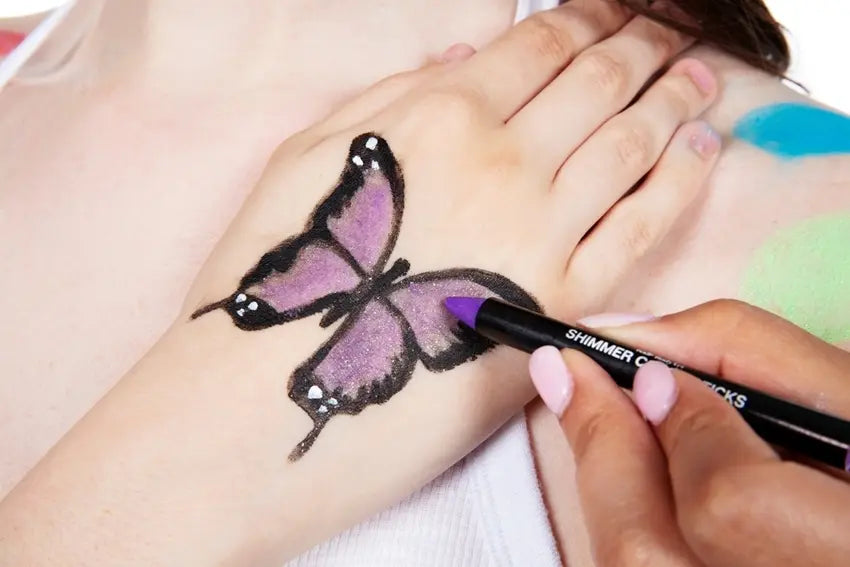 Get inspired to try something new this summer with this list of five fun body paint ideas! Body art is great for any occasion, whether you're at a music festival, parties, or any time that you want to stand out with a unique pop of color! Your body is your canvas, so grab your favorite Tulip Body Art Kit and create a colorful masterpiece!
Looking for a new way to incorporate fun floral designs into your look? Paint or draw them on with Tulip's Face & Body Markers or Body Art Color Sticks for a simple way to show some flower power this summer! This quick and easy body paint idea is great for any occasion, whether you're getting your groove on at a music festival or just want to add some color to your summer pool parties and barbecues!
Light up the dance floor this summer with this black light body art! This rainbow body art idea will get you into your flow with winding designs in bright colors, day or night. This design is super easy to create too— just use Tulip's Black Light Color Sticks and follow the natural curves of your body to turn yourself into an eye-catching work of art!
Spread your wings and let your imagination fly this summer with Tulip's Face & Body Markers or Body Art Color Sticks! Recreating this fun body paint idea is as easy as drawing with these vibrant color sticks that glides on smoothly and effortlessly. Draw on as many as you'd like and turn yourself into a colorful walking butterfly sanctuary!
Henna designs are a fun body paint idea for summer, but it can be intimidating to try recreating those ornate designs yourself. Don't worry though— it's easy with the Ultimate Henna Tattoo Kit! You can paint on these henna-inspired designs with the included stencils and tattoo paint, or try your own freehand designs!
Need a quick look that will make you shine this summer? Freehand paint your own custom designs, or pair with stencils for sparkling accents that highlight your radiant personality. 
How else will you use Tulip Body Art Kits for your summery body paint ideas? Show us your style and tag us on social media @TulipColorCrafts!