Floral Handmade Earrings with Puff Paint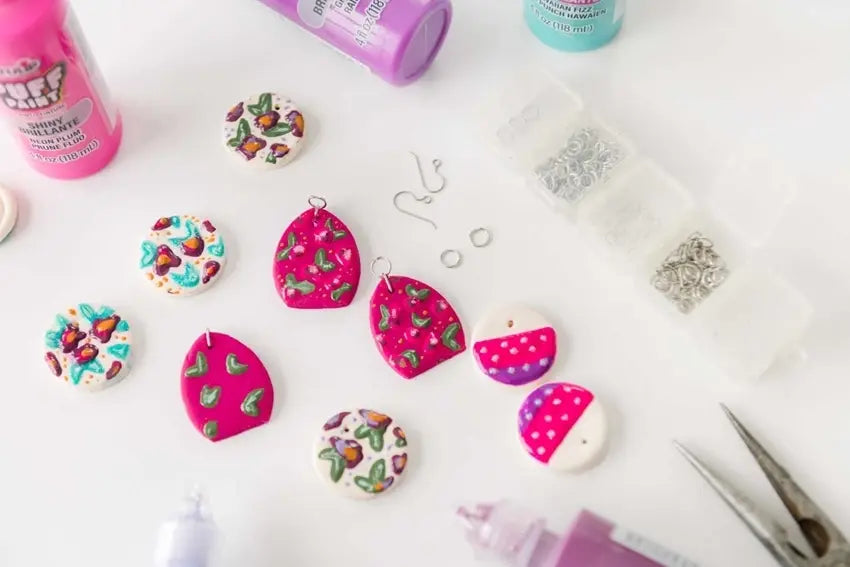 When you can't find the perfect pair of earrings, make them! This tutorial from Oh Yay Studio will show you how to craft your own floral handmade earrings with polymer clay and Tulip Puff Paints. This super simple statement jewelry project is perfect for spring— step outside and get inspired by the fresh flowers, then use Puff Paints to create pretty, dimensional patterns!
What you need:
Polymer clay
Earring hooks and jump rings
Pliers
Craft knife
Straight pins
Pencil
Paper towel
Step 1  
Cut DIY earring shapes from polymer clay
Craft your own statement jewelry from polymer clay! For this project, Oh Yay Studio chose to roll out the clay approximately ¼" thick and used small molds to cut out shapes. Use a straight pin to poke a hole at the top of the handmade earrings for the jump rings. Follow the packaging instructions for baking the clay, and remember to flip the earrings halfway through baking to ensure they bake as flat as possible!
Step 2 Use a Pencil to Outline your Designs
Once your handmade earrings have finished baking and cooled completely, use a pencil to lightly map out your designs. Try making colorful squiggles, fun florals, or any other patterns that you can bring to life with Puff Paints!
Step 3 
Paint Designs with Puff Paints
Now it's time to make your statement jewelry pop with Puff Paint! Squeeze the Puff Paints directly onto your handmade earrings, following the outlines you drew with pencil. Use the tip of a straight pin to drag the paint and create crisp lines or fine details. A damp paper towel can be used to clean up any mistakes.
Step 4 
Allow Puff Paints to Dry Completely
Repeat this process until you've painted all your handmade earrings! Once you're done painting, set the earrings aside to dry completely.
Step 5 
Add Jump Rings and Hooks to DIY Earrings
Use pliers to add jump rings and hooks to your handmade earrings. Wear your DIY statement jewelry to add a bold pop of color to any outfit! 
Will you be making your own handmade earrings and other statement jewelry with Puff Paints? Show us your colorful projects and tag us on social media @TulipColorCrafts!