Geometric Triangle Marker Tote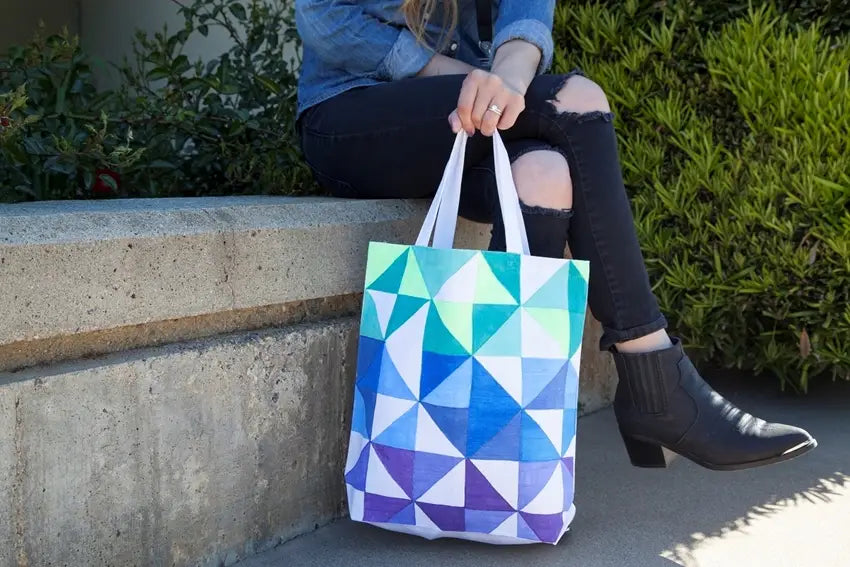 I'm not sure about you, but I don't think I will ever have enough bags, purses or totes!  I love grabbing one when on the go and it's great to have a few for different occasions. What I love most about totes is the versatility of them they pretty much work with anything and are perfect for on the go. But it gets better when you personalize your own tote, and the possibilities are endless with Tulip Multi Fine Fabric Markers.
What you need:
Tulip Multi Fine 20pk Permanent Fabric Markers
8" x 10" Canvas
Cardstock
Craft Knife
Tape
I like to start with a clean white tote, think of it as a blank canvas. For this tote I wanted to transform it into a geometric semi monochromatic masterpiece. I began by cutting out triangles out of cardstock, then used a water erasable marker to trace around the triangles. You can find this marker at any craft store in the sewing department.
Once I covered the entire tote in a triangle pattern, I began coloring the triangles in with the fabric Markers. I chose three color families to color in the triangles.
I started with the green marker family and staggered the colors in no particular pattern. As I was coloring I left some triangles white.
Next I moved on the blue marker family and repeated the process.
 I repeated the same process with the purple marker family. A cool trick to getting your colors bright an vibrate is to fill the entire tringle as you normally would, wait a few seconds and then go over it with the tip of the marker to make the colors brighter.
I love how vibrant it turned out!
And just like that you have yourself a new tote to add to your collection.