Rainbow Baby Shower Station With Tulip Fabric Markers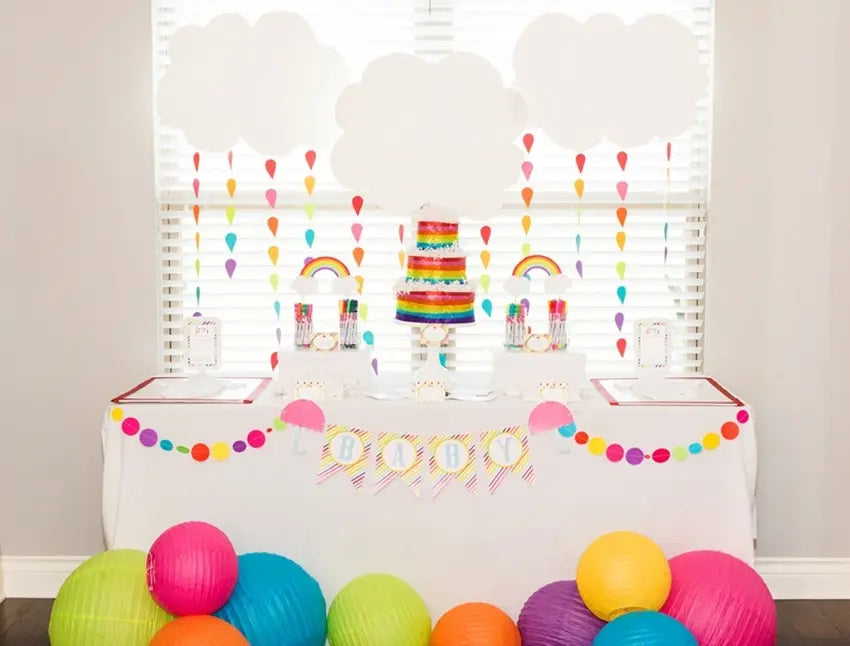 The arrival of a new baby always feels like sunshine and rainbows to us, no matter what season it is! That's why we love this rainbow-themed baby shower idea from Kara Woolery of Lillian Hope Designs. With the rainbow of colors from Tulip Fabric Markers, you can throw a baby shower full of fun DIYs guests will love creating, and new baby will love wearing. Get inspired to sprinkle some rainbow-colored creativity into your next baby shower, whether it's your own or for someone special, with a little help from Tulip!
What you need:
- Tulip Fabric Markers - desired packs
- Light-colored clothing and/or shoes for baby
- Rainbow-colored decor like streamers, pompoms and party servingware
- Stencils or printed designs for tracing
Every baby shower needs a station for gifts, food, and cake, but this one is even better because it includes spaces for creative DIYs too! Unless you are planning on a separate DIY station, make sure you have a table long enough to set up a coloring space or two for guests to drop by and decorate baby clothing.
To display the Fabric Markers and give guests easy access to their chosen colors, place them in clear mason jars and place the jars at each creative station. 
You can print out cute rainbow-themed cards to label each station, or even hand write/decorate them using your Tulip Fabric Markers!
Place the baby clothes and stencils or design prints near each DIY station for easy access, and don't forget to add some extra rainbow decor like mini pompoms to your setup! 
Can you even have a baby shower without a diaper cake these days? New parents-to-be always need more diapers on hand, so try making a diaper cake wrapped in rainbow streamers for a way to make diapers a little more fun and a lot more colorful!  
If you don't have stencils, don't worry. You can easily print out design templates for guests to use when decorating the baby clothing! If the parents-to-be have a special theme, you can include designs to fit it, or choose a variety of designs guests will enjoy using.
Before the baby shower, wash and dry the baby clothes without fabric softener to remove sizing from the fabric, which can prevent the markers from completely bonding with the fabric fibers. Iron smooth for easy decorating when working with the Tulip Fabric Markers.
Make sure to give guests enough room on their workspace to really get creative! You can even decorate the space with ribbon for an easy way to add a little extra color.
It helps to outline steps for guests to follow when decorating the baby clothes, especially if guests have never worked with Fabric Markers to DIY their own designs on fabric. 
We promise the decorating activity is fun AND super easy! When guests are ready, they'll first need to select a design printout.
Then slide the design in between the clothing layers and center it, or place where desired. Smooth the fabric as much as possible.
Next choose desired colors of Fabric Markers for decorating. Tip: Fine-tip markers are better for drawing, outlining and decorating, and the brush-tip markers are better for coloring in designs!
Now it's time to get creative! Trace over the designs and color in. 
Once guests are happy with their designs, they can remove the template and set aside for the marker inks to dry.
A cute way to let the clothing dry AND display everyone's colorful creativity is to hang a line of twine or ribbon and clip the clothing onto it.
We hope you're feeling inspired to throw a rainbow baby shower to remember with Tulip Fabric Markers! Don't forget to tag us on social @tulipcolorcrafts and share your creativity with us.