Glamorous Glitter Garlands for a Dazzling Christmas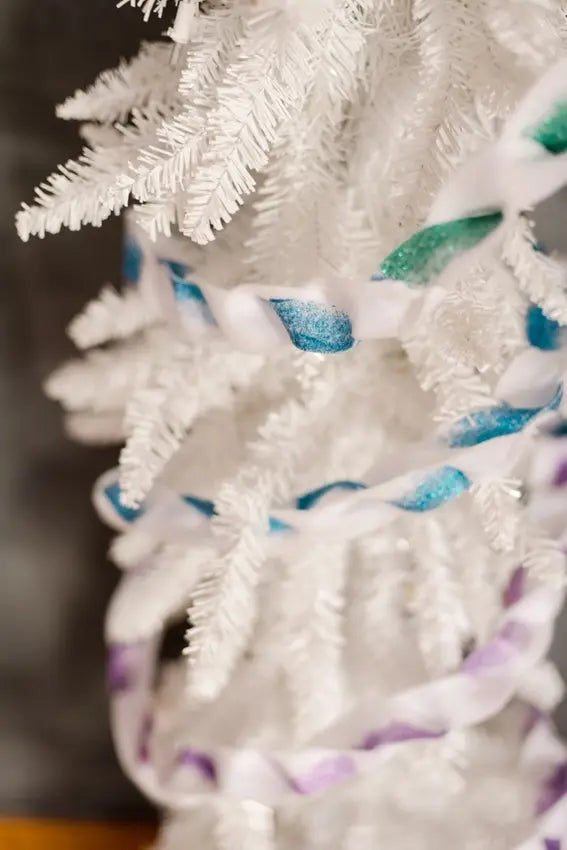 Add some shimmer and shine to your Christmas décor when you make these gorgeous glitter garlands! Oh Yay Studio shows us how to use Tulip Dazzling Glitter Dimensional Fabric Paint with felt and Aleene's Permanent Fabric Glue to create an easy yet impressive garland for the holidays. Whether you're decorating a tree, a mantel, or a door frame, this décor is great for adding a touch of sparkling color to your Christmas! 
What you need:
-       Tulip Dazzling Glitter Dimensional Fabric Paint
-       Aleene's Permanent Fabric Glue
-       ¼ to ½ yard of white felt
-       Scissors
-       Paintbrush
Cut the felt into 1- 1 1/4" inch strips. Set aside half of the strips— these will remain plain white for this project.
Apply glitter paint onto the bottom half of each strip of felt. Use a paintbrush to brush upwards toward the other edge of the felt, creating a gradient. Allow the paint to dry completely and repeat along the backside. Let dry completely again. 
Overlap a small piece of each strip of felt to make one continuous strip, securing with Aleene's Permanent Fabric Glue. Repeat this with all the white strips that were set aside. Allow to dry, then roll each into a coil.
Lay out each long strip perpendicular to the other, forming the letter "L" to get started. Attach both long strips by putting a dab of fabric glue to keep them secure.
Begin creating the twist by overlapping the glitter strip over the top of white strip, then repeat by folding the white strip over the glitter strip.
Repeat folding back and forth until you get to the end and secure with a final dab of fabric glue. Allow to dry completely, then trim any excess. Hang it on your tree or mantle and enjoy your glittering garland!
Are you adding sparkle to your holiday décor with Tulip Dazzling Glitter Paints? Show us your shimmering creations on social @TulipColorCrafts!