Glow-in-the-Dark Galaxy Painted Pumpkins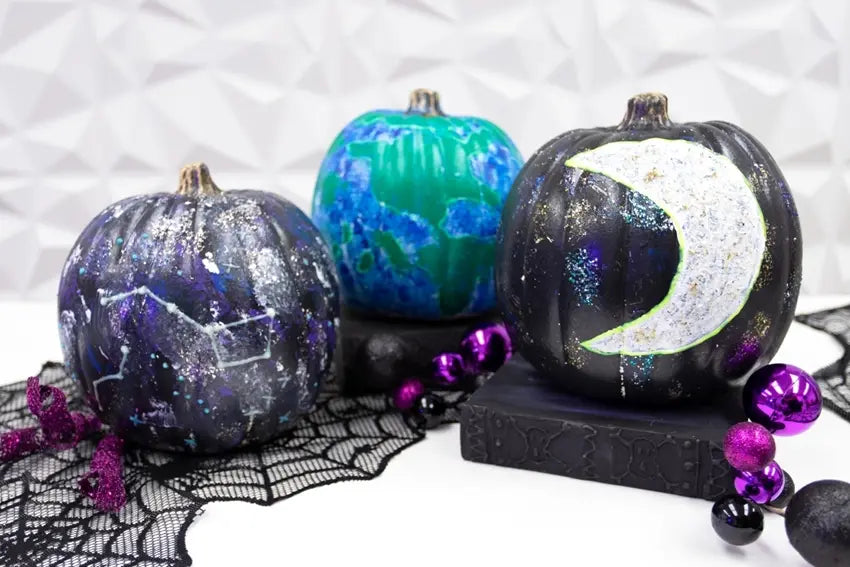 This Halloween, forget the ooey-gooey mess of carving pumpkins and start a new tradition with Tulip Fabric Paints! Craft Box Girls will help you launch your creativity into orbit by painting galaxy pumpkins glowing with galactic flair.
What you need:
- Tulip Glow in the Dark Puff Paints 6 Pack
- Tulip Brush-On Fabric Paints
- Faux pumpkins
- Paintbrushes, sponges and/or sponge brushes
- Paper plates
This pumpkin painting activity is one the whole fam will enjoy! The most difficult part is picking which paint colors to use (because we have a lot to choose from). Everyone can opt for darker colors or get extra colorful with their space-themed palette, depending on the designs they want to create.
Before getting started, make sure each pumpkin has been wiped clean and any stickers removed.
For both the constellation and moon glow pumpkins, you'll want to start with a basecoat of black paint. You can either brush it on or sponge it, and after it dries, randomly sponge on other paint colors you'd like for your galaxy. Tip: Don't worry about cleaning your sponge in between different paint color applications; sponging them together will create cool color blending effects!
For the constellation pumpkin, sponging on some white paint over the darker colors will create the illusion of stars speckled throughout your sky.
Next use Puff Paint in Natural Glow to create constellations and stars. (Not sure which constellations to choose? You can find easy designs by searching online!)
For the moon pumpkin, dry dabbing glitter paints onto your dark base for sparkling starry night effects. Then brush or sponge white paint in the shape of a crescent moon over your base. Dab on gold or silver glitter paint, the outline your moon with Yellow or Natural Glow Puff Paint.
Craft Box Girls also wanted to include an Earth pumpkin in her galaxy mix! To create your own, sponge on a blue paint base for water, then brush or sponge on continents with green paint.
Once you have your continents formed, outline them with Green Glow Puff Paint to match!
After your painted pumpkins have completely dried, it's time to get cosmic with your Halloween décor!
Don't forget to display your galaxy pumpkins in a place where they can glow! Set out on your porch to light the night for trick-or-treaters, or somewhere inside for your own little ghouls and goblins to enjoy. How are you planning on using Tulip Paints to decorate pumpkins for Halloween? Tag us on social @tulipcolorcrafts and share your creations with us!