Outdoor Colorshot DIY Basket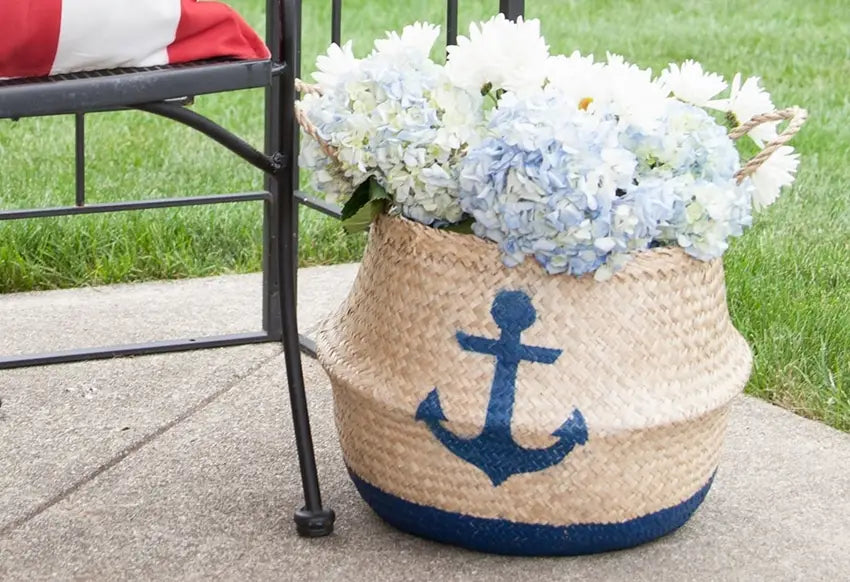 It's always fun to have unique baskets to help contain clutter on your deck or patio, or just to fill with beautiful colorful flowers. I'm so excited with how easy it was to create a fun nautical design on this basket using Outdoor ColorShot. The basket took the color really well and it matches perfectly with the pillows I made using the Outdoor ColorShot too!
What you need:
Outdoor Colorshot Fabric Spray Paint
Basket
Tape (Duck tape holds best to the basket)
Plastic bag
Freezer paper
Use duck tape to tape off the sections you want to paint.
I taped off the bottom section first with duck tape then covered the rest with plastic bags to protect the rest of the basket from excess spray.
Start in the center of the bottom of your basket, spray lightly, and try not to let the paint pool on your basket or tape.
By starting on the bottom of your basket you can see how the ColorShot works on your basket since it will take the paint differently than fabric will.
Paint light coats and let dry in between coats until you get the color you want.
Let dry completely for at least 72 hours before using.
I love how easy it is to get great color and coverage with the Outdoor ColorShot. It's so easy to use, my deck never looked better!