Pastel Dyed Plant Pattern Cloth Napkins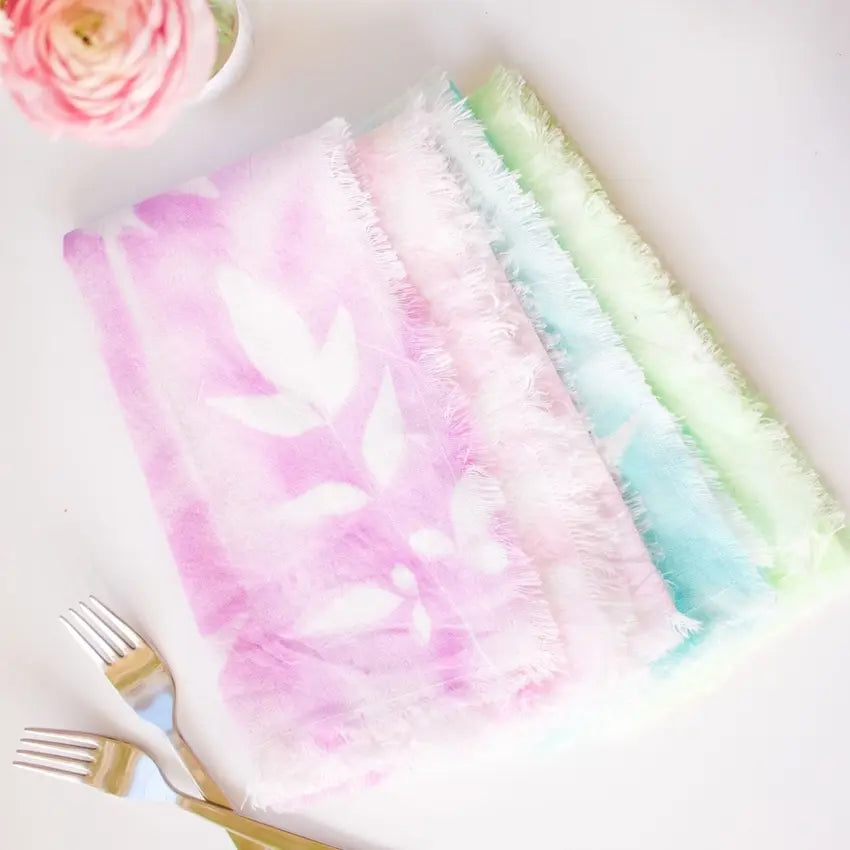 Perfect for an intimate Easter dinner at home, a set of pastel cloth napkins with plant patterns will bring the sweetness of nature inside to your table. Cloth napkins add a softer touch to mealtime, and we're loving this set from Mikyla Creates made with Tulip Two-Minute Tie Dye. Read on to see how Mikyla got creative with tie dye, plant sprigs and spray bottles to freshen up table settings for Easter and other spring meals.
What you need:
- Tulip Two-Minute Tie-Dye Kit
- Linen or cotton cloth napkins
- Spray bottles
- Plant stems/foliage from outside
- Plastic table cover
Before you start your dye project, place a protective plastic table cover (or large trash bag) over your work surface to protect from any potential spills.
Pour some dye powder from each color you're using into each spray bottle. For more pastel shades, don't add all of the dye powder to the spray bottle. Add water to the tops of the bottles, replace the nozzles and shake to mix.
Dampen your cloth napkins and lay out flat on your covered work surface. Place your foliage on the napkin and spray one of the dye colors over the napkin. The foliage will act as a resist, blocking the dye from the portions of the napkin underneath. Move your foliage around as needed while spraying to create the pattern.
Once you've finished spraying dyes over napkins, make sure they are still damp (if not, re-dampen them) and place into the Two-Minute Tie-Dye Container. Microwave and allow your napkins to set according to the kit instructions.
After the processing time, launder your napkins according to instructions, then they're ready to brighten up your dinner table!
Such an easy way to add a touch of spring to Easter dinner (or any meal) with pretty pastels!