Quote Art Mother's Day Tote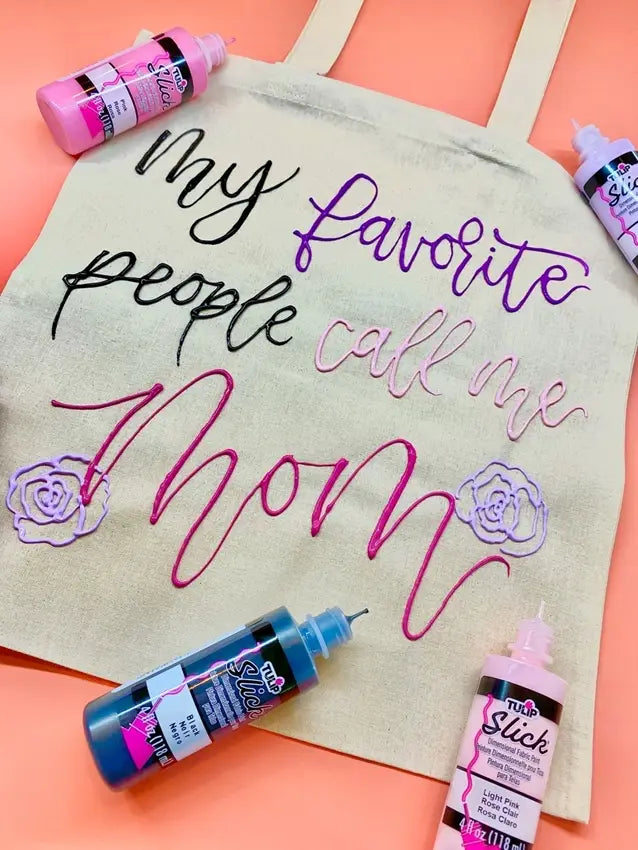 Looking for Mother's Day gift ideas? How about a personalized tote bag made just for her? Moms - because they're moms and are pretty much always prepared - tend to sometimes need bigger bags for grocery shopping, carting around extra items for kids, family trips and more. A quote art tote bag personalized for your mom will bring a smile to her face every time she gets out her specially made tote for errands or everyday use. Scribble & Script shows you how to use Tulip Dimensional Fabric Paint for an extra way to make your mom's new favorite bag stand out!  
What you need:
- Tulip Dimensional Fabric Paints in desired colors
- Tote bag
- Cardboard or freezer paper to fit inside bag
- Paper towels
- Desired quote
- Pencil/chalk pencil
- Iron
First iron any wrinkles out of the tote bag for a completely smooth painting surface. Insert a piece of cardboard or freezer paper (wax side up) inside of the tote bag to help prevent any paint from soaking through to the backside. (If using freezer paper, iron over the top layer of the bag to melt the wax for a temporary hold.)
Once you have your selected quote, prep your Dimensional Paints by shaking and starting the flow on a paper towel. If you feel comfortable freehand creating the quote art on the tote, go ahead and get started! Or you can use a chalk pencil or a regular pencil to lightly write out the quote onto the front of the bag first, then trace over it with Dimensional Paint.
After you're happy with your paint application, let the paint dry flat for several hours until completely dry. Once dry, remove the cardboard or freezer paper from inside of the bag.
What a fun gift to give your mom for Mother's Day! She'll love showing this sweet quote art tote off everywhere she goes!