Reverse Tie-Dye Galaxy Wall Hanging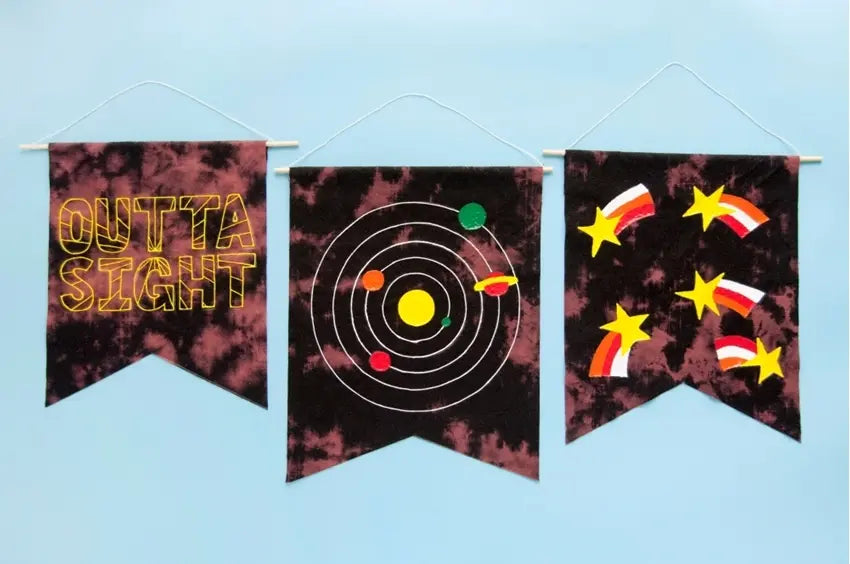 Take your kids' imagination to a galaxy far, far away with this Reverse Tie-Dye Galaxy Wall Hanging project! Perfect for kids who enjoy outerspace themes, this fun space craft from Handmade Charlotte will send their creativity out into orbit. Pair the Tulip Reverse Tie-Dye Kit with Tulip Puff Paints for out-of-this-world wall hangings that are perfect for decorating any aspiring astronaut's room. 
What you need:
- Tulip Puff Paints - desired colors
- Black 100% cotton fabric (like a T-shirt or cloth napkins)
- Chalk
- Wooden dowel or skewers
- Double-stick tape
- Scissors
- String
Before painting your fabric, you're going to want to create cool galaxy effects using the Reverse Tie-Dye Kit, which removes color from darker fabrics. Cover your work surface with a disposable plastic cover before getting started.
Wash and dry your 100% natural black fabric (like cotton); this project uses cotton cloth napkins but you could cut up a T-shirt as well. Read over the instructions that come in the kit to prep your supplies. Since we wanted to create a galaxy night sky look, we used the crumple tie-dye technique. Simply lay the fabric out on your work surface and scrunch it all together, then secure with the included rubber bands. Repeat for as many wall hangings as you'd like to make.
Prepare the Color Changer by adding water up to the line on the bottle and shaking to mix. Make sure to follow all of the safety precautions listed in the kit instructions.
Apply the Color Changer onto your crumpled black fabric (make sure you are working on a protected work surface)! Start by applying a little bit at first to both sides and let it sit for a couple minutes - you'll see the colors start to change and you can add more Color Changer if you like. Do this for all fabric pieces.
Monitor your fabric every few minutes and once it has lightened to your liking, cut off the rubber bands and launder according to the kit instructions.
Once your fabric pieces have been laundered, lay them out flat on your work surface for cutting and shaping.
Cut the fabric pieces into the size and shape of wall hangings you want.
Use chalk to sketch out space-themed designs and words - have fun with it!
Outline and fill in your designs with Dimensional Paints.
Once you're done painting, let the fabric pieces dry completely before moving on to the next step.
Fold the top edge of the wall hanging over to the back side and secure with double-stick tape to form a sleeve for threading a wooden dowel (or long wooden skewer) through. Cut the ends to trim if needed. Hang as is by resting on two nails on the wall, or tie a piece of string to both ends of the wooden skewer to create a hanger.
This is one space craft the kids will get to keep enjoying "light-years" after they finish the actual project!