How To Splatter Paint Jeans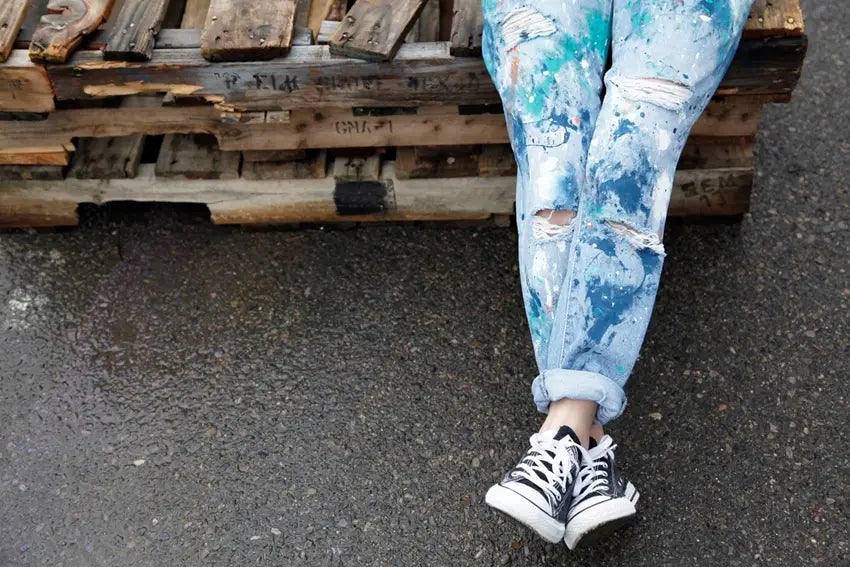 Splattering paint on a pair of jeans might seem like it's a little nerve wracking, but with this fool-proof tutorial, there is really no way to mess up. And the end result is a pair of super chic splatter paint jeans!
What you need:
-Tulip Soft Fabric Paint in a variety of colors
-Jeans
-Paintbrushes
Start by splattering your first color of Tulip Soft Fabric Paint onto the jeans. Use your fingers to smudge some of the paint to give a smeared effect.
You can also use a paintbrush or sponge brush to apply some of the paint colors onto the pants for a variated look. Let sit at least 2 minutes before applying the next color.
And if you really want to commit to this project, stick your fingers into the next color and have fun splattering away! This gives the splatters a different look than the brush splatters, and it's also really fun. Feel free to use your fingers to smudge some of the paint and blend it together with the other colors.
I like to switch up my splattering methods for a variety of looks. So I used the sponge to try and splatter the orange paint, but I kept the use of orange very light because I didn't want to muddy the paint. You'll have to be the judge of how much of a certain color you add to your jeans based on the colors you are using.
Continue with splattering another color of paint to your liking.
Finish the look by splattering White Soft Paint all over as an accent if you like. Let dry completely and wait at least 72 hours before washing.
Voila!