Squad Goals Shirts with ColorShot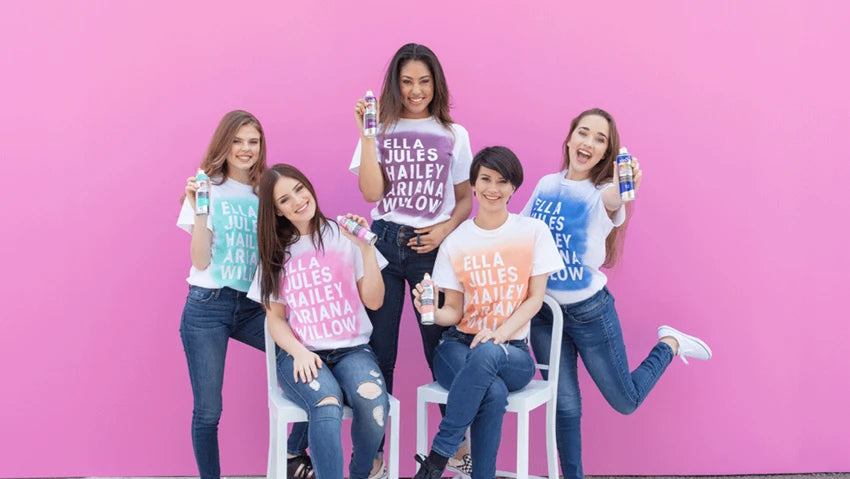 SQUAD! You know it's a party when the squad gets together! Have a birthday trip or a family reunion coming up? Maybe its senior day at school or your senior trip is almost here. Whatever you're up to in the coming months, these shirts are perfect for letting everyone know who your squad is! And the photos that will come from this are definitely Instagram-worthy. Grab Tulip ColorShot, a few T-shirts and we'll show you how easy it is to create custom tees for your crew.
What you need:
-Tulip ColorShot Fabric Spray Paint in desired colors
-T shirts in desired colors
-Letter stickers
-Freezer paper
-Iron
First, iron a piece of freezer paper to inside front of shirt. This creates a stable crafting surface and prevents paint from bleeding through to back of shirt.
Place letter stickers on front of shirt as desired. Get creative! It can be everyone in your squad's name, your nicknames, your personal mantras and more.
Lightly spray ColorShot in an abstract manner over stickers. Allow to dry. Tip: It's better to spray several light coats of ColorShot over the shirt instead of one heavy coat. Make sure to let dry in between color applications.
Remove stickers and freezer paper from shirt. 
Now your shirts are ready to rock! Don't forget, everyone gets to wear their own signature color. 
Be sure that your camera is ready, because trust us, you're going to want to take a ton of pictures in these awesome shirts!
Tulip ColorShot makes it easy to create these fun shirts for any occasion or just for fun! Create sibling shirts, bestie shirts, rock your favorite girl group or show off your favorite boy band. The options are endless; have fun with it!