Steal Her Look: J-Lo's Tie-Dye Sweatsuit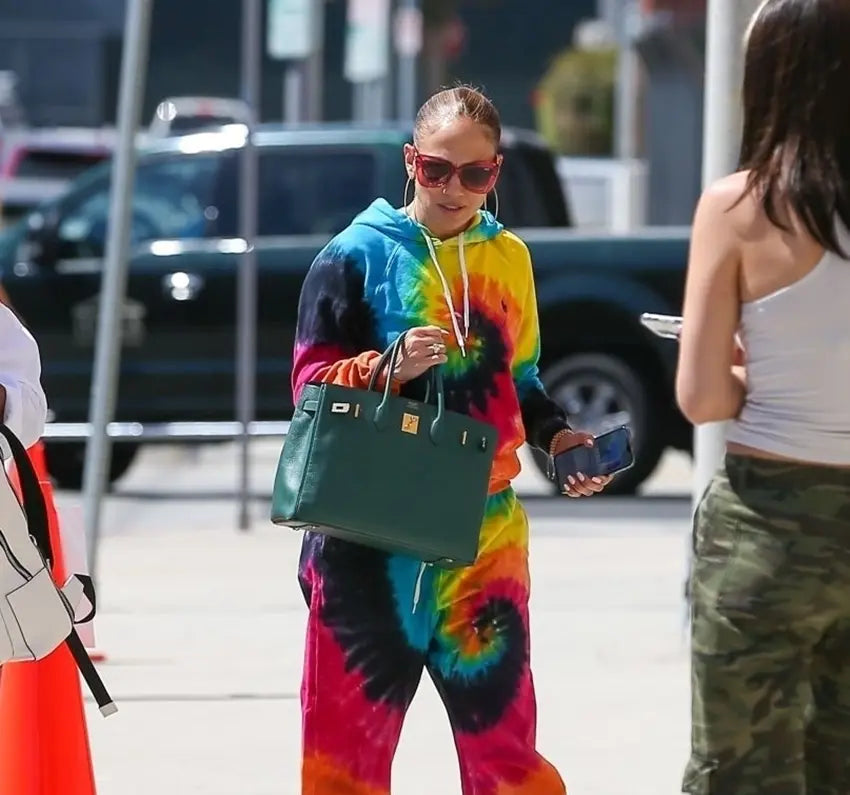 It's no surprise that celebrities love tie dye! Even Jenny from the block was recently spotted in a vibrant rainbow spiral tie-dye sweatsuit— and if you want to steal her look, we've got you covered. It's easy to create your own tie-dye sweatsuit with Tulip!
What you need:
Tulip One-Step Tie-Dye Kit of choice
White cotton sweatsuit
Disposable plastic table cover
Plastic wrap
Before you get started on this colorful craft, prewash your sweatsuit to remove any sizing. Leave the fabric damp and fold and bind your sweatshirt using the spiral tie-dye technique. Pinch the fabric the center and twist into a swirl. Keep twisting the fabric tightly until the entire garment is formed into a spiral shape. Use 3 rubber bands to hold your spiraled fabric in place, crisscrossing the rubber bands to create 6 wedge shapes. Repeat this process with your sweatpants.
Mix the tie dye solutions according to package instructions. J-Lo's rocking a classic rainbow spiral, but you can choose any colors you'd like! Apply one color of dye to each section of your sweatsuit. Wrap, let set 6-8 hours, rinse, wash, and reveal!
Looking for more tie-dye sweatsuit inspo? There's no wrong way to tie dye! Check out the colorful tie-dye projects below and get inspired to create your own custom tie-dye sweatsuit!
For super simple tie-dye style, you can't go wrong with the crumple tie-dye technique! Creating a custom tie-dye sweatsuit with this technique is easy—just crumple and apply dye!
For a more subtle tie-dye sweatsuit, try the spiral tie-dye technique with pastel dyes! Turn any Tulip One-Step Tie-Dye into a soft pastel shade by adding extra water to the dye solution.
The Tulip 5-Color Shibori Tie-Dye Kit has everything you need to create a stunning shibori tie-dye sweatsuit like this! Experiment with different shibori-inspired folding and binding techniques and gorgeous blue dyes.
Will you be hopping on the tie-dye sweatsuit trend? Tag us in your colorful tie-dye projects on social media @TulipColorCrafts!