Ultimate Guide to Hosting a Vibrant Backyard Tie-Dye Party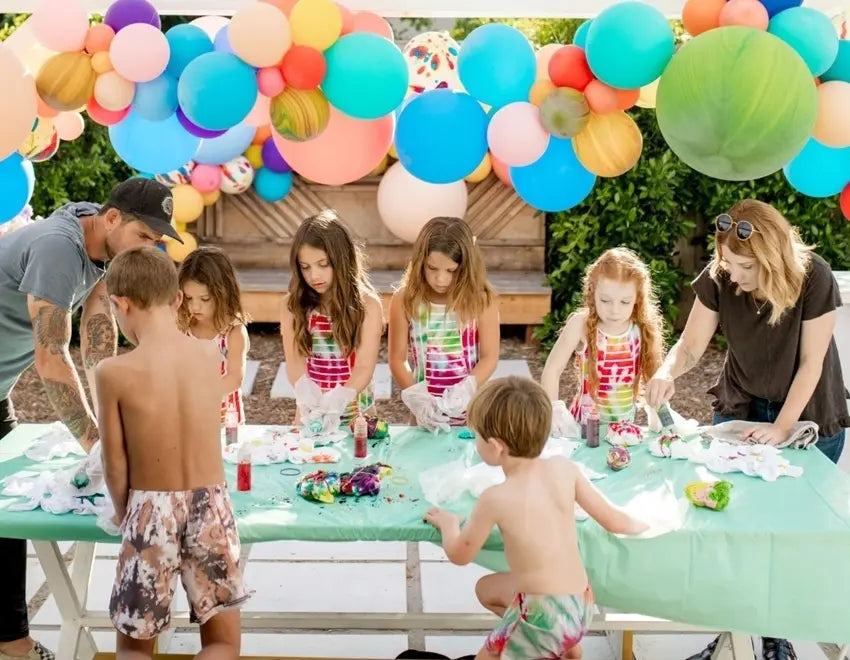 When the kids are bored this summer, it's essential to find creative ways to enjoy outdoor activities and celebrate special occasions with friends and loved ones. One fantastic idea is hosting a colorful backyard tie-dye party! If you've been looking for a fun outdoor party idea or can't get enough of the tie-dye trend, this guide is for you. Let's dive in and create the most memorable backyard tie-dye party ever!
Essential supplies for a tie-dye party:
White 100% cotton T-shirts
Colorful plastic table covers
Sealable plastic bags and permanent markers for labeling
Paper towels
Vibrant decorations like balloons, flowers, etc.
Assorted colorful napkins, paper plates, and plastic utensils
Delicious colorful snacks
Invitations
Create eye-catching tie-dye party invitations using online platforms that offer affordable design options. Be bold and incorporate plenty of colors - it's a tie-dye party, after all!
Decorations
Transform your backyard into a rainbow paradise by using colorful decorations. Create a balloon arch as a backdrop, use a mix of bright flowers as table centerpieces, and don't be afraid to mix and match different colors for a vibrant atmosphere.
Table settings
Use multi-colored paper plates and cups to make cleanup easy and add to the colorful theme. For a personalized touch, create name cards for each guest.
Prep the dye stations
Cover work areas with disposable plastic tablecloths to protect surfaces from dye. Have paper towels and sealable plastic bags available for guests to store their tie-dye projects. Prepare the dye bottles less than 24 hours before the party to ensure optimal dye concentration.
Tie-dye time!
Have guests dampen their shirts and choose a tie-dye technique from the Tulip Tie-Dye Kits instruction guides or from online resources. Once the T-shirts are ready, provide each guest with protective gloves and let the tie-dye fun begin!
Store the finished projects
Place each completed tie-dye shirt in a separate sealable bag and label with the guest's name for easy distribution at the end of the party.
Enjoy colorful snacks
Serve delicious and colorful treats like Popsicles, cupcakes, cookies, and fruits to match the tie-dye theme.
Capture the memories
Use the colorful balloon backdrop for fun tie-dye party photos to remember the day.
Now that you know how to host a backyard tie-dye party that will leave a lasting impression, gather your favorite tie-dye kits and your friends and loved ones, and enjoy a day filled with vibrant colors and creativity!
Share your upcycled creations with Tulip by tagging them on social media @TulipColorCrafts!