10 Awesome Ways to Paint Shoes with Fabric Paint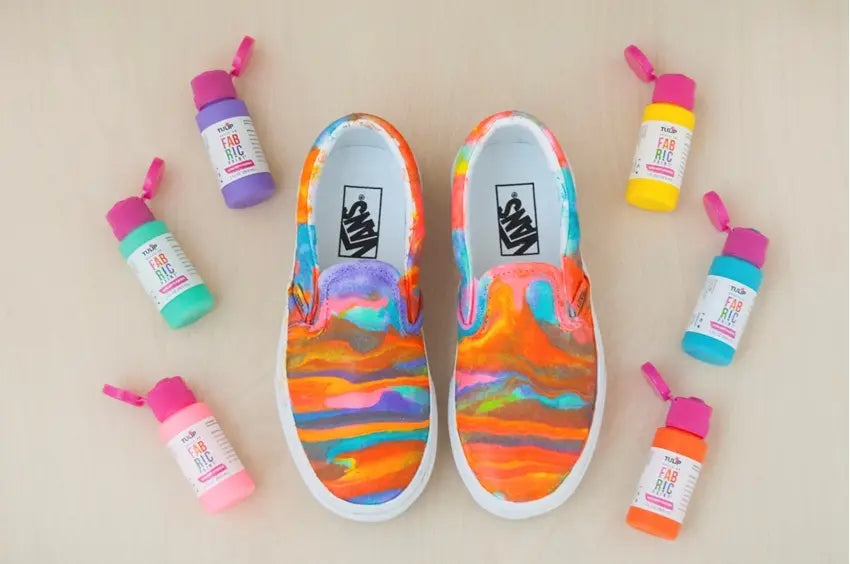 Sometimes we wear our shoes out completely and need new ones, but a lot of times, we just want some cool new kicks! Before you hit "add to cart" on an expensive new pair, instead hit "add to cart" on some Tulip Fabric Paints and make shoes you already have so much more awesome with your own customized, creative flair. To help get you inspired, we've rounded up some of our favorite ways to paint shoes with Tulip Fabric Paints!
What you need:
- Tulip Soft Fabric Paints of choice
- Tulip Puff Paints of choice
- ColorShot Fabric Spray Paints of choice
- Paintbrushes
- Fabric shoes
Splatter Paint on Shoes 
Ready for some ideas? Step right up! One of the easiest ways to paint shoes is by splatter painting them. No skills needed – there is absolutely no wrong way to do this! Just grab a paintbrush and your favorite Soft Paint colors, take aim and fling the paint in all kinds of directions. (Maybe just make sure you do it outside unless you want to paint your walls, table and everywhere else?) You can try this same technique on jeans too!
Ice Cream Sundae Painted Shoes
All of that flinging paint around has our appetites worked up and ready for a snack. How about you? Treat your feet to something sweet too with ice cream sundae-inspired shoes! This is a fun way to paint shoes that are looking a little worn and make them look new again. Paint a bright base color with Soft Paint, then top with Dimensional Paint "sprinkles" that look good enough to eat.
Dazzling Glitter Paint Shoes
If you're in the mood to give your shoes the star treatment, get out the Dazzling Glitter Paint and get to work! It doesn't take much to make shoes worthy of the walk of fame; simply embellish some of the details already on them with glitter paint. Add a few shapes like stars, and you're ready to walk the red carpet with some extra glitz and glam.
Ice Dye Shoes with Fabric Paint
If the summer heat has you feeling beat, kick up your feet and chill while your shoes get cooler with the ice dye technique – using fabric paint instead! This fun twist on tie dye creates watercolor effects using just ice and your favorite Soft Fabric Paints poured over the top. When the ice melts, it'll transfer the paint onto your shoes in pretty abstract patterns. You'll get to paint shoes and make them one of a kind, without having to do any work!
Ombre Spray Painted Shoes
We think one of the best parts of going for a run is getting to sport cute running shoes! Athletic shoes can be pricey, so give yours longer life with a ColorShot Fabric Spray Paint makeover. After spray painting in your favorite colors, you'll be ready to hit the pavement in a pair of shoes that makes you want to run even faster – to get more ColorShot to paint your other shoes too!
Hand-Painted Roses on Shoes
We should all make time to stop and smell the roses, but for those times we can't, we can at least paint shoes to enjoy our flowers on the go! Let your creativity blossom with this easy tutorial for painting roses on shoes. Once your shoes are in full bloom, try this technique on other accessories like handbags, jackets and hats!
Paint Pouring on Shoes 
Paint pouring is a big trend for canvas art, but we think it's also a fab way to paint shoes and turn them into works of art too. Check out this tutorial on how to use the dirty pour paint technique with Tulip Brush-On Fabric Paints, then let your creativity flow for custom kicks that are a colorful masterpiece. 
Dot Art Puff Paint Shoes
Speaking of art, dot art is the perfect way to paint shoes and make them pop with ACTUAL dimension – with a little help from Tulip Dimensional Fabric Paints, of course. Create colorful motifs without the fine art training in any style, shape or pattern you like. The end result will always be awesome!
Hand-Painted Superhero Shoes
Looking for some kicks that are a little more out of this world? Save the day by painting on your favorite superhero – or super villain. Use Soft Fabric Paints and Dimensional Paints to customize shoes that are sure to become your new style sidekick for any and every outfit.
Hand-Painted Leopard Print Shoes
Sometimes you want to put away your sneakers and step into something a little dressier that takes your style game for a walk on the wild side. Using Dimensional Fabric Paints, you can easily paint shoes covered in animal print patterns – with no special skills or techniques needed! If you can make abstract shapes, you've got this down! Feeling inspired to make your own shoes more awesome with Tulip Fabric Paints? Tag us on social and share your customized kicks with us!