14 Ways to Make the Perfect Puffy Paint Ornament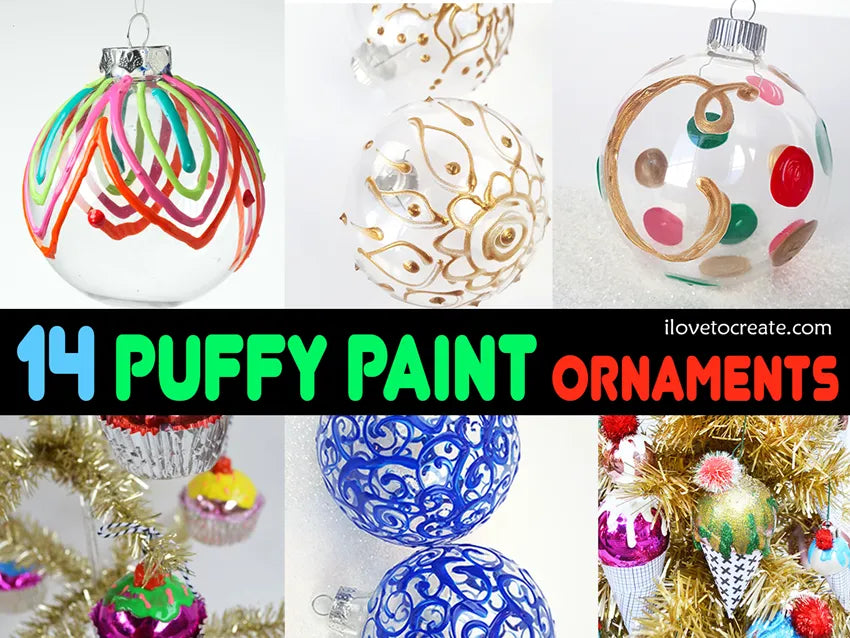 We rounded up 14 ideas to help you Puffy Paint your way to the perfect Christmas tree. Whether you like colorful or classic, these ornaments are sure to spread the cheer this holiday season.
1-6. 6 Ways to Transform your Ornaments with Puffy Paint
These 6 ultra colorful, modern puffy paint ornaments will make you rush to the craft store to stock up on clear glass ornaments. 
7. DIY Neon Puffy Paint Ornaments
Get our swirl on with these happy and incredibly easy-to-make DIY ornaments by the incomparable Margot Potter.
An elegant twist on traditional holiday gold, these henna-inspired ornaments bring and exotic touch to any holiday tree.
The DIY cupcakes ornaments are the sweetest!
10. Elegant Swirl Puffy Paint Ornaments
Creating this timeless puffy paint swirl pattern on ornaments is easier than it looks. Get all fancy and put a box on top!
11. Mitten Ornaments
Transformed from dollar store mittens to adorable hand-lettered ornaments, all by the magic of Puffy Paint!
12. Puffy Paint Ice Cream Cone Ornaments
Okay now, these ice cream ornaments by JaderBomb are the sweetest thing on the tree this year. With the cupcake ornaments above, you can Puffy Paint your way to a dessert themed tree, why don't ya!
Wit and Wistle shares a sleek monogram ornament with a polka dot background that is the most precious. Ever.
14. Polka Dot Monogram Ornaments
Go gift-shop kitschy with oversized, colorful polka dots on this second take on the monogram ornament.