8 Last-Minute Halloween Costume Ideas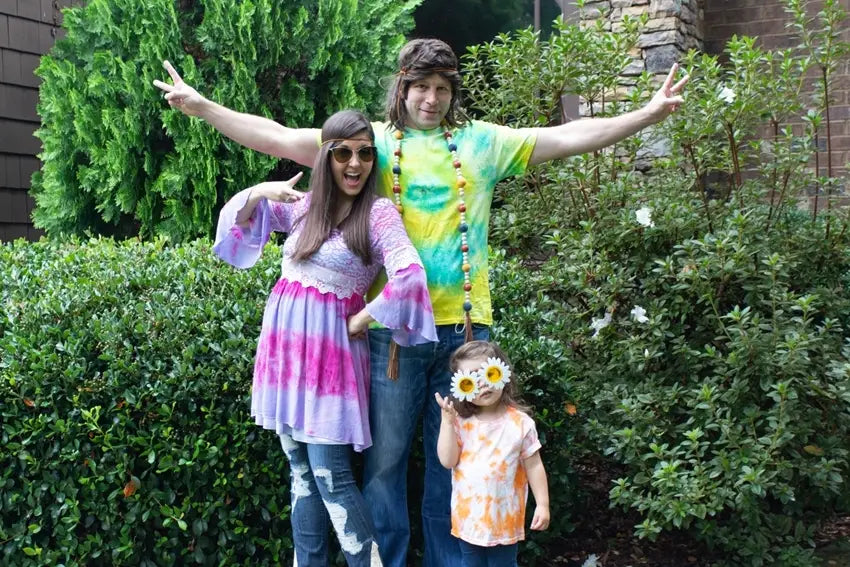 Maybe you've been super swamped with school or work and haven't had time to think about a Halloween costume, or maybe you just now decided you feel like dressing up. Whatever your reason, you're in need of a last-minute Halloween costume, and we have some ideas. Check out this list of easy DIYs, then grab your Tulip products and get ready to whip up a costume in no time!
What you need:
- Costume substrate
Ice Cream Cone Costume
This last-minute Halloween costume will make your evening a little less scary and a whole lot sweeter! Sprinkle the fun onto a white dress (or T-shirt) with Puff Paints and top with a paper cone headband for an ice cream cone costume that takes the cake.
Eerie Eyeball Shoes
Maybe you're not in the mood to dress up, but just want an eerie accent instead? We see you. Use Tulip Fabric Markers to customize canvas shoes with your fave Fright Night designs so you can step into something spooky this Halloween.
Family Hippie Costumes
These hippie last-minute Halloween costumes will give the whole fam a groovy good time from start to finish! Tie dye T-shirts in your favorite colors, throw in some flowers and sunny shades, and you're ready to rock.
Puff Paint Witch Necklace
Get your creativity brewing with a witch costume you can easily craft up in a short amount of time! Use Puff Paints to create a necklace with a magical touch, throw on a pointy hat, and you'll be ready to head out in spellbinding style this Halloween.
Glowing Jack o' Lantern T-shirts
Save on spend – and time – by making your own last-minute Halloween costume with a ghoulish grin. Using a custom freezer paper stencil and glowing green Fabric Paint, you'll be all smiles after the paint dries. You can use Tulip Body Art products to add to your look with face paint, top with a headband, or leave just like this for a simple Halloween look that still makes a statement.
Glow-in-the-Dark Bat Mask
Stand out in the dark, and with dimension, in a custom bat mask crafted with glowing Puff Paint. You'll be ready to spread your wickedly cool wings in this last-minute Halloween costume as soon as the paint dries!
Last-Minute T-shirt Costumes
A T-shirt and fabric paint will make your last-minute life easier this year! From a deviled egg to a very berry vibe, some quick painted accents will give you extra time to focus on what's really important this Halloween: eating all of that delicious candy.
Glowing Spiderweb Necklace
Get a little creepy-crawly with your last-minute Halloween costume using glow-in-the-dark Puff Paint and tulle! This spiderweb necklace is sure to scare off others with its awesome arachnid design. We hope this list of easy-to-make costumes saves the day with its anything-but-boring ideas. Don't forget to share with us what you're making with Tulip by tagging us on social @tulipcolorcrafts!