'90s Barbie Nostalgia: Paint 'N Dazzle Barbie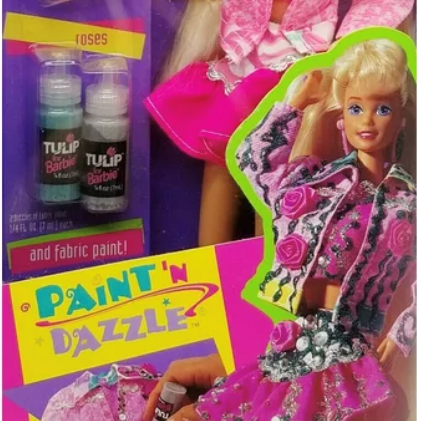 Are you ready for some '90s nostalgia? In 1993 (20 years ago!) we did a Paint 'N Dazzle Barbie line with Mattel! That's right, the queen of all dolls was sporting her own custom Tulip Fabric Paint creations! The Paint 'N Dazzle Barbie line was a fun and creative part of many childhoods and introduced many kids to the colorful world of Tulip Fabric Paints. With the new Barbie movie coming out this July, we decided to take a walk down memory lane and rediscover our love for '90s Barbies and Tulip!
This '90s Barbie captures the era so well: the clothes, hair, and accessories all scream '90s nostalgia! The original Paint 'N Dazzle Barbie comes with rhinestones, roses, and two bottles of sparkling fabric paint.
Just like in the upcoming movie, there's a variety of Barbies! Each doll came with her own unique accessories— such as stars, pompoms, sequins, and pearls— plus Tulip Fabric Paint for a different way to decorate. There were even separate accessory sets for more ways to customize Barbie's clothes! These dolls, paired with Tulip Fabric Paint, offered a high level of personalization that sparked creativity in children across America.
Of course, Ken wouldn't miss out on the Paint 'N Dazzle fun! Your favorite Ken outfits are totally transformed into a bold '90s fashion statement with quirky accessories and Tulip Fabric Paint. Girls and boys everywhere could create cool and unique outfits for their favorite dolls with a little imagination and Tulip Fabric Paint! 
And who could forget about the Paint 'N Dazzle car! This cool car comes with shimmery decorations, fabulous fabrics, and Tulip Fabric Paint to create outrageous looks for your '90s Barbie and her car!
The Paint 'N Dazzle Barbie line was such a fun way to express yourself! Although it's hard to come across these '90s Barbies nowadays, you can always customize your new Barbies with Tulip. Get ready for the new Barbie movie and relive the Paint 'N Dazzle fun by creating your own fashionable designs with Tulip Fabric Paints! 
Did you have a Paint 'N Dazzle Barbie set when you were a kid? What are your fondest memories of this creative '90s Barbie line? Share your experience and tag us on social media @TulipColorCrafts!