Americana-Inspired Cut-Off Shorts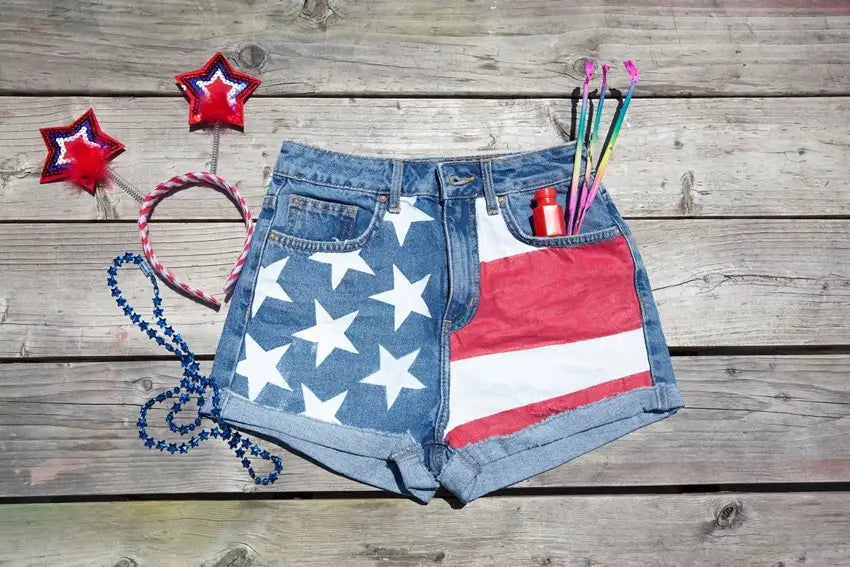 My definition of summer is backyard BBQs, lying out by the pool, drinking lemonade, and oh - 4th of July - one of my favorite holidays other than Christmas! So this summer it's time to skip the boring T-shirt and show your stars and stripes with these super cute and easy to make Americana-inspired cut offs. All you need is Tulip Soft Fabric Paint and you are ready to rock the summer!
What you need:
- Tulip® Soft® Fabric Paint Kit
- Denim shorts
- Paintbrushes
- Painter's pallette or a plate
- Tape
- Cardstock cutout of a star shape
- Washable marker
Start by taping off one side of the shorts. I spaced it just enough to get at least 2 stripes for each color.
Next, use the washable marker to trace your star cutout on the opposite side of the shorts. You can create as little or as many stars as you can fit. Make sure to pick a light-colored washable marker so it will wash out easily.
Now for my favorite part! Paint each star white, wait for the first coat to dry, then paint a second coat of white onto each star.
On the opposite side of the shorts, paint white above the first taped off section. Let it dry and do one more coat. Skip a section and repeat with the white paint.
Once the white paint is dry, remove the tape and paint the remaining sections red. Let the shorts dry 72 hours before washing.
Americana cut offs are a summer must-have !