Americana Tie-Dye Shoes with Transfers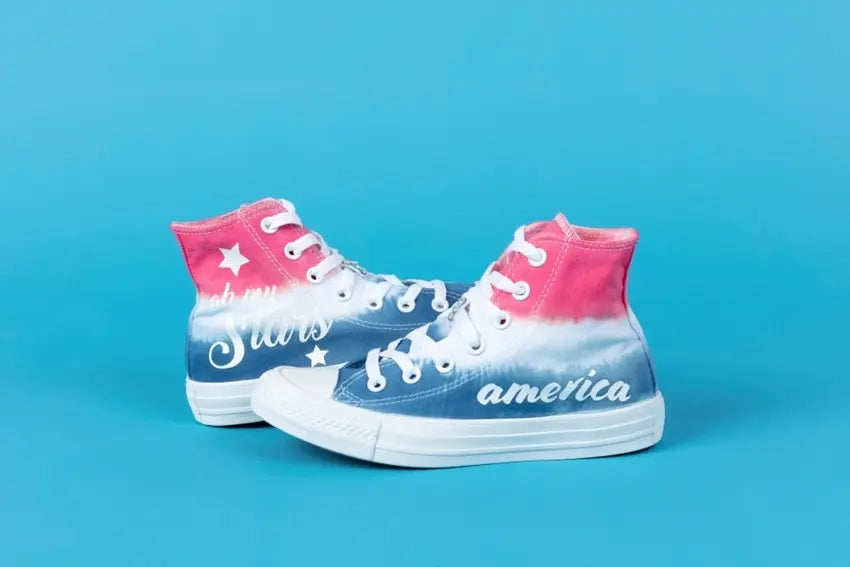 Step out in star-spangled style with a custom set of kicks made with Tulip Tie Dye in red, white and blue! You could even add some fun image transfers for a fun and easy way to customize your shoes with patriotic flair.
What you need:
- Tulip Tie-Dye Kit of Choice
- White canvas shoes
- Masking tape
- Heat-setting tool
- Disposable plastic cups
- Paintbrushes
- Disposable plastic surface cover
Prep your work surface by covering with a disposable plastic surface cover. Make sure your shoes are clean and ready for tie-dye action!
If your shoes have laces, remove the laces, then tape off the soles to protect from dye.
Fill the red and blue dye bottles with water, replace caps and shake to mix.
Pour each dye color into a disposable plastic cup.
Use one of your paintbrushes to brush blue dye around the bottom third of each shoe.
Using a clean paintbrush, brush red dye around the top third of each shoe. Once you're happy with how your shoes look, let them dry completely, then remove tape.
Cut your desired transfers from the included transfer sheet.
Heat set transfers where desired on shoes, following instructions from kit.
If desired, heat set crystals onto your shoes as well!
Add the laces back to each shoe and you're ready to treat your feet to some serious stars & stripes style!