Celebrate Your Grad with Tulip Color Products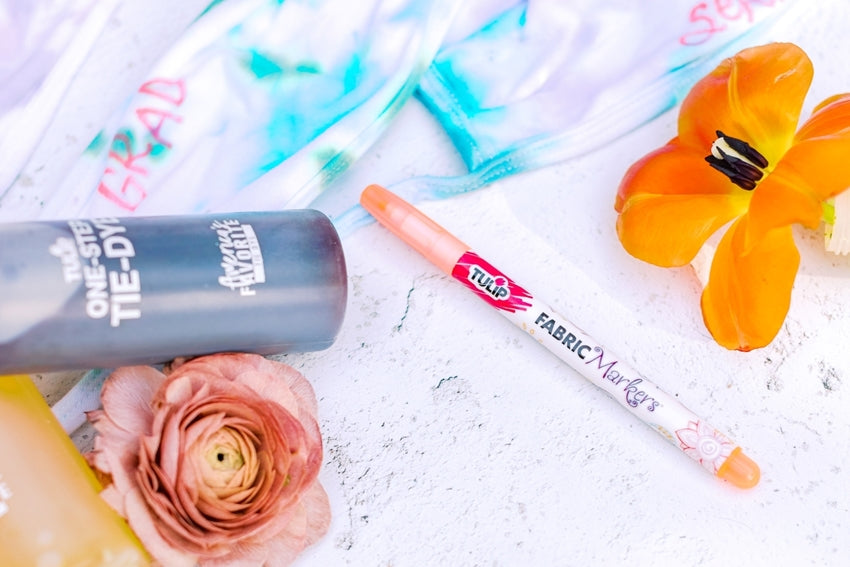 Whether you're attending a graduation ceremony or having an intimate celebration at home, keep your grad, friends & family safe in bright Tulip style! Get inspired to create and personalize fun graduation-themed face masks with these ideas from Beijos Events.
What you need:
Tulip One-Step Tie-Dye Kit of choice
- White 100% cotton Face Masks
- Tulip Fabric Markers of choice
- Tulip Puff Paints of choice
Let's get started on celebrating your grad! You can gather your grad's crew for a fun creative activity to prep masks before the ceremony, or save your crafty supplies for entertainment DURING your celebration. Either way, make sure your cotton face masks have been washed (without fabric softener) before you start tie dyeing.
Prep your bottles of Tulip One-Step Tie Dye according to instructions. The kiddos can tie dye their masks using a favorite tie-dye technique, or just apply the dyes randomly like the Beijos crew. The best thing about tie dye is there's no wrong way to do it!
After you're finished tie dyeing, make sure to follow the instructions that come with your kit for letting the dye set and laundering (for best and brightest results). If you're doing this as an activity during your graduation celebration, we recommend having some sealable plastic bags to place everyone's project in for easy and mess-free transport home.
Your grad & friends can add an extra personal touch to their (washed and dried) face masks with Tulip Fabric Markers. These markers are permanent and washable without heat setting, so they'll last long after the tassels are turned!
Each friend can create their own graduation-themed word, design or phrase on their mask, or even pass their mask around to friends to add a special message. PS. Dimensional Fabric Paints also work great on masks, so you can get those in on the creative fun too!
Once the mask-decorating fun is done, it's time to celebrate!
If you're throwing a sweet little soiree for your grad, you can put your Tulip Color Products to good use for the party too. Simple cloth napkins can double as place cards for each guest with a little help from Tulip Fabric Markers.
Turn a wood panel into a sign that says it's totally time to celebrate with Tulip Dimensional Paints.
Use the sign to greet guests, then your grad can save it as a special keepsake to mark this major milestone in their life.
This year's graduation might still be different from previous years, but we think with a little creativity, it can still take the cake! How are you using Tulip Color Products to celebrate your grad this year? Share your creations with us on social by tagging us @tulipcolorcrafts.