Christmas Cactus Coloring Pillow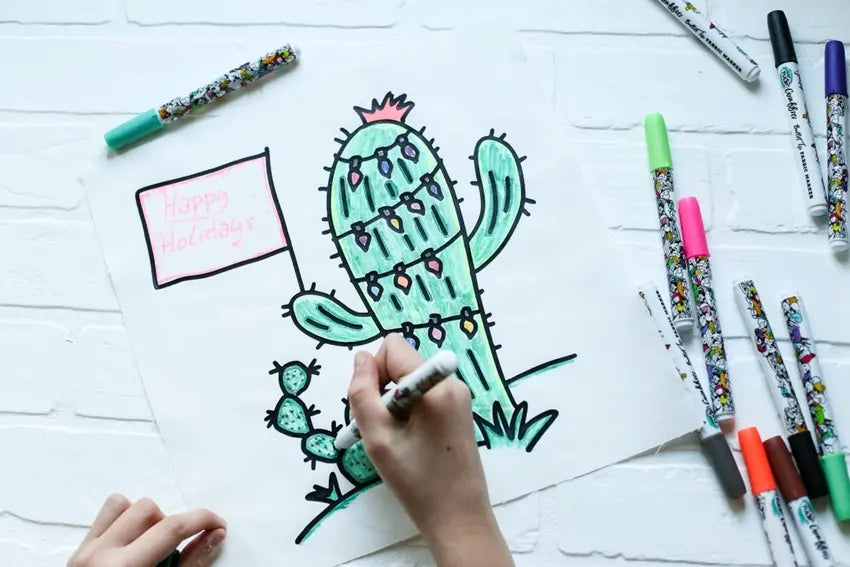 Christmas Crafting is in full swing!  A fun way to add holiday decor in your home is with festive holiday pillows - this Christmas Cactus is a perfect fit!  Draw or trace a cactus design, color it using Tulip Fabric Markers, and you'll have a cute pillow in no time!
What you need:
--Tulip Fabric Markers in Desired Colors
--2 fabric squares, cut to desired size of pillow
--filling for pillow
--optional: outline of cactus
--optional: pom pom trim
First, draw an outline of your cactus.  Or if desired, you can cut it out of vinyl and iron it onto your top piece of fabric.
Now comes the fun part!  Grab all those fabric marker color options.
Using Fabric Markers, color as desired.  Use lots of colors for a bright pop in holiday decor.
To complete pillow: place 2 fabric squares right sides together and sew along the edge, leaving an opening for turning.  If desired, insert pom pom trim into seam.  Turn pillow through the opening and stuff with filling.  Sew opening closed.
That's it!  Enjoy your fun, colorful holiday Christmas Cactus pillow!