Colorful Customized Sunglasses for Kids with Puff Paint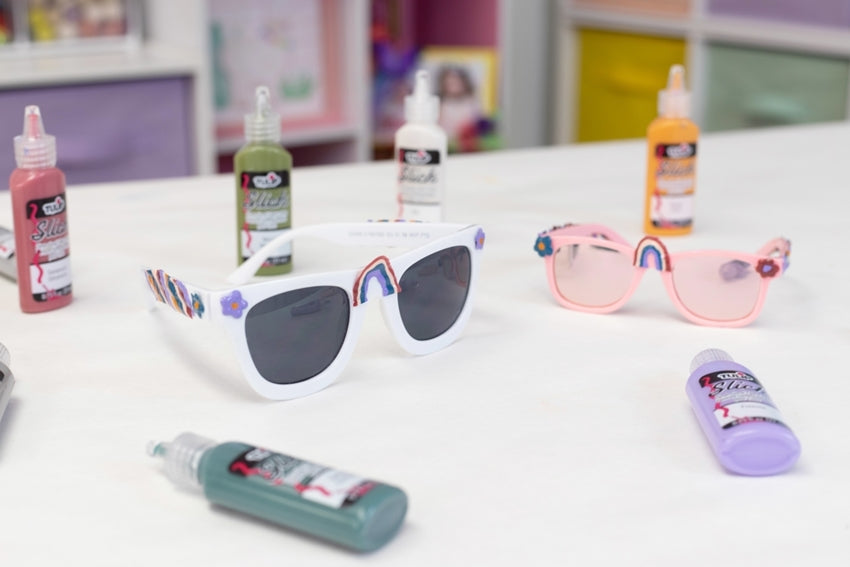 Warm and sunny days are just around the corner, so why not prepare with a pair of cool customized sunglasses for your kids? This tutorial from Craft Box Girls shows how you and the kids can make some totally unique shades with your favorite Tulip Dimensional Fabric Paints! Puff Paints are a great way to add fun textures and vivid colors to almost anything—so grab your favorite colors and get painting! 
Lay a large piece of parchment paper onto your work surface and tape the corners down. Use a dry erase marker to trace the arms of your sunglasses onto the parchment. This step will give you an idea of how much space you're working with for your 
customized sunglasses
!
Now you can start decorating! Use your favorite Tulip Dimensional Fabric Paints to paint designs directly onto the parchment, staying inside of the outline you created earlier. Get creative and paint dimensional flowers, dots, and other patterns for your customized sunglasses! Allow the paint to dry completely, then carefully peel your designs off the parchment.
Use a dab of Aleene's Original Tacky Glue to glue your designs directly onto your sunglasses. Once the glue has fully dried, your customized sunglasses are ready to wear!
Will you be using Tulip Puff Paints to make some customized sunglasses with your kids? Show us your projects and tag us on social @TulipColorCrafts!