Creative Outdoor Activities for Kids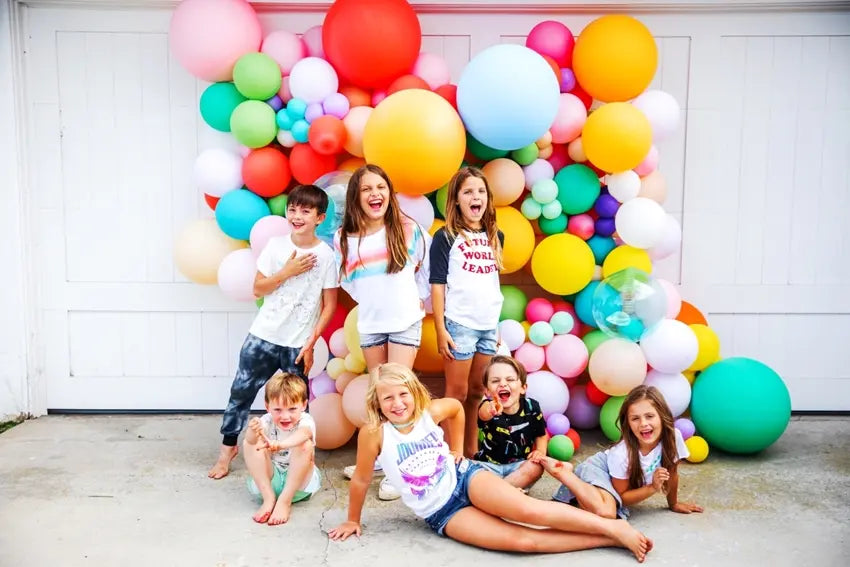 Summertime is the perfect time for outdoor activities of all kinds! Whether you're looking for fun ways to keep your kiddos occupied or you're throwing a party and need game ideas, Beijos Events has you covered. Check out these kind-friendly DIYs and get inspired to throw a backyard party full of colorful summer fun!
What you need:
- Tulip Brush-On Fabric Paints of choice
- Tulip One-Step Tie-Dye Kits of choice
- Canvases & paintbrushes
- Easels (optional)
- White 100% cotton T-shirts
- Squirt guns
- White drop cloth or sheet
- Large stencil (paint splatter or shape of choice)
You can't have a party without food! (Well, you can, but we wouldn't advise it, especially with everyone working up an appetite from all of the fun outdoor activities.) Tulip Brush-On Fabric Paints are permanent, washable and nontoxic, so try splattering bright colors onto cloth napkins for party-time refreshments.
Since we're all about color here, of course we think it's a great idea to incorporate lots of it into your outdoor activities, including the party table! Get creative with the place settings using Tulip Paints and marbling/paint-pouring techniques on wood letters. This makes a fun party favor for guests too!
Tulip Brush-On Paints work on canvas too … so they're perfect for a fun activity making art! If you have easels (or want to purchase canvas/easel sets for beginners), you can set them up at a separate station outside, but you don't NEED them for a painting activity. The kids can also place their canvases directly onto the table.
For the painting part of your outdoor activities, you can have a specific design for the kids to paint, or let them go wild with creativity and explore their own unique themes!
Keep the colorful fun going with outdoor activities involving tie dye! We LOVE this tie-dye squirt gun idea from Beijos Events!
Setting up a tie-dye squirt gun station outdoors is super easy. First prep the bottles of One-Step Dye like you normally would, then fill up squirt guns with the dye (1 squirt gun for each dye color). Don't worry, One-Step Tie Dye is nontoxic!
Next dampen the T-shirts and string them up in an area where you don't mind dyes flying around. Then let the kids have a blast squirting their T-shirts with tie dye! Tip: after the tie-dye activity is done, you can place each T-shirt in a sealable plastic bag to safely store the shirts for mess-free transport home.
We're not done with the outdoor activities just yet! There needs to be a party game too, don't you think? Create your own Twister®-inspired game with a drop cloth or sheet and Tulip Brush-On Fabric Paints with stencils in any design you like.
This is one backyard party game to twist and shout over. You'll want to bring it out every summer!
At the end of these creative outdoor activities, the kids will be all smiles! How are you throwing backyard parties with Tulip Color Products this summer? Tag us on social @tulipcolorcrafts and share your DIYs with us!