Daddy and Me Last Minute Father's Day Gift T-shirts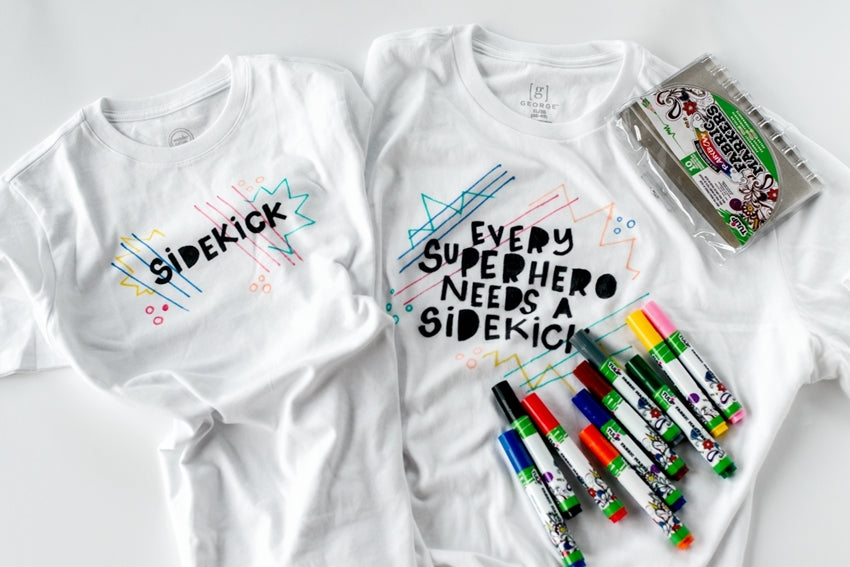 Maybe you're good at planning ahead for gift giving, and maybe you're more like us and searching for something last minute that's still awesome. Either way, you've come to the right place! This daddy and me T-shirt set from Oh Yay Studio is super quick & easy to make with Tulip Fabric Markers, and is totally doable as a last-minute Father's Day gift. Grab your markers and some T-shirts, and get ready to save the day with your creativity!
What you need:
 Tulip Fabric Markers – desired pack
- White or light-colored cotton T-shirts
- Printed quote art to use as a pattern
- Tape
- Cardboard
- Pencil
- Iron
We know these daddy and me shirts are a last-minute Father's Day gift, but you'll still want to wash and dry the shirts (without fabric softener) before getting started for best results with the Fabric Markers. Iron each shirt smooth as well.
Cut pieces of cardboard to fit inside each shirt, and tape each quote art pattern onto the cardboard. Place each inside of their respective shirt under the top layer, then use a pencil to lightly trace over the wording to help you see it a bit better. (Leave the cardboard inside the shirts while you work to prevent any potential of marker ink soaking through to the back sides.)
Use which ever color you like to trace over and fill in the quote art on your daddy and me shirts. You can make them match, or use different colors if you prefer! You can also add another layer of ink over the wording and designs if you feel like it's needed after the initial coverage. Don't worry, the markers dry quickly so you'll still have these last-minute Father's Day gift shirts done in time!
Once you have the wording done, use bright colors to add fun designs to your daddy and me shirts! Extra cardboard makes a great straight edge for lines, and you can do dots and squiggles too. Get creative with it!
Create similar designs on the other shirt to match your overall theme.
Once you're happy with how this last-minute Father's Day gift project has turned out, the only thing left to do is let the shirts dry completely before wrapping them up for Dad!
These daddy and me shirts turned out so adorable, right?! Creativity to the rescue!
Even if you waited to whip up this last-minute Father's Day gift, we're pretty sure Dad won't even notice, especially with such a cute sidekick to spend the day with! What other gifts are you crafting up for Father's Day with Tulip products? Tag us on social @tulipcolorcrafts and share with us!