DIY Custom Painted Yoga Mat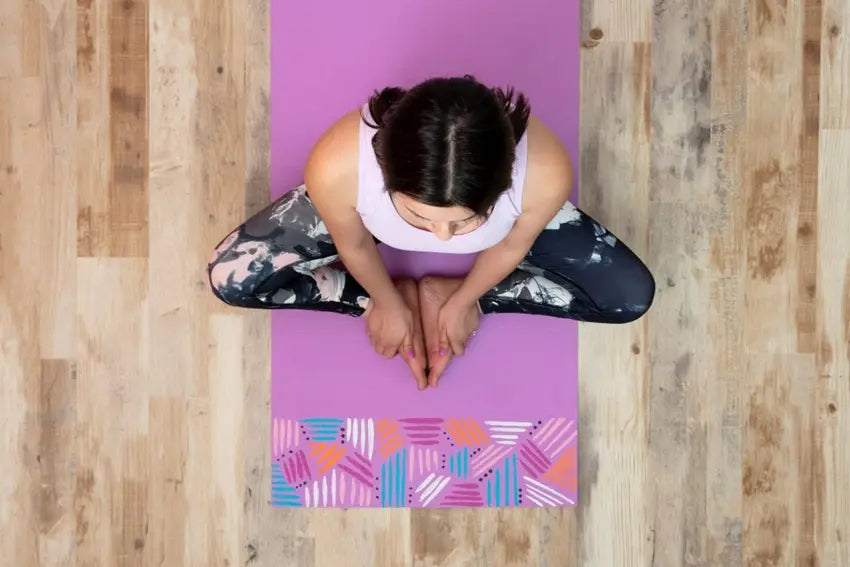 Nama-slay your yoga practice with a mat that's so much more! A custom-painted yoga mat is a fun way to get artistic for an afternoon, and a fantastic way to express your own personal style every time you do your yoga workout. Okay, you might be thinking, but where am I going to find a paint that's flexible enough to stay on my mat between workouts and rolling it up and carting it around? We're so glad you asked! Tulip Fabric Paint dries permanent, soft (hence the name) and flexible, so it's perfect for keeping up with your practice. Read on to see our creative flow, then get inspired to start your own!
What you need:
- Tulip Fabric Paint - desired colors
- Yoga mat
- Paintbrushes
- Paper towels
- Painter's tape
- Ruler
- Paper plate or paint palette
First choose your color scheme! You can go with a calming palette or one that's vibrant and energetic - get creative and have fun with it!
Lay your yoga mat out flat on your work surface and measure 7 inches up from the bottom (or more or less depending on how much surface area you want to paint). Mask off the section with painter's tape.
For our mat, we painted abstract line patterns within the paint space. The beauty of this is there is no wrong way to do it, it doesn't have to be perfect and it looks awesome! You might have your own motif in mind, and that's okay too!
Mix up your colors, patterns and line direction for interesting results!
When you've filled in all of your lines, take the handle end of your paintbrush and dip in black or another color of paint and create dot patterns.
Before the paint completely dries, remove the strip of tape and let the paint dry.
Now it's time to put your newly painted mat to work!