DIY Monstera Leaf Marker Jeans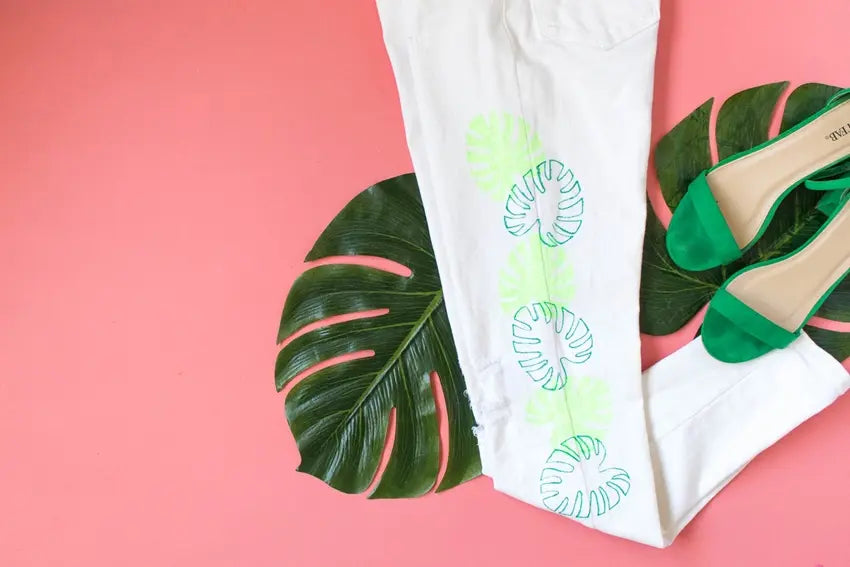 I live in denim most of the time, but sometimes you just have to mix it up! I grabbed a pair of old white jeans and gave them a tropical makeover with a monstera leaf stencil and Tulip Fabric Markers cascading down the side of the pants. In 10 minutes, I completely refreshed a pair of pants, making me much more excited to incorporate them back into my wardrobe this spring! 
What you need:
     Tulip Fabric Markers (light and dark green)
     Denim pants
     Monstera leaf stencil (sticky stencil recommended)
Step 1: Fold the pants so that the side seam is facing flat up.
Step 2: Press the stencil along the seam at an angle.
Step 3: Outline the stencil with a light green Tulip Fabric Marker, then remove it and fill in the pattern entirely. 
Step 4: Replace the stencil at a different angle, overlapping the light green pattern slightly.
Step 5: Outline the stencil with a dark green Tulip Fabric Marker and remove the stencil.
Repeat all the way down the leg of the pants.