DIY Reindeer Pillowcase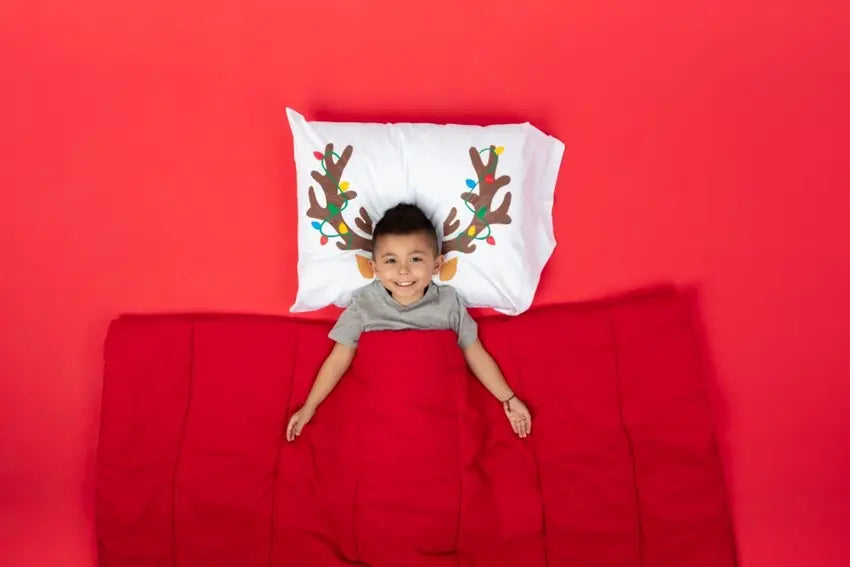 Your little one's dreams will be even sweeter this holiday season with a pillow that's fun to catch some ZZZs on! This adorable, fantastically festive reindeer pillowcase is so easy to DIY and it makes your kiddo the star of their own Christmas story every night when they head to bed. What better way to get them to settle in so Santa can make his rounds on Christmas Eve?! All you need is a little help from Tulip Fabric Markers and Soft Fabric Paints for a DIY reindeer pillowcase that lights the way to a winter wonder dreamland.
What you need:
- Tulip Soft Fabric Paints (holiday colors)
- White pillowcase
- Reindeer antlers pattern
- Freezer paper
- Iron
- Paint palette
- Paintbrushes
Print out an antler pattern and enlarge if needed. Choose a fun, festive holiday color palette of Soft Fabric Paints and Fabric Markers for your design! 
Make sure the pillowcase is clean and ironed smooth. Place a piece of freezer paper wax side up inside the pillowcase and iron over the top of the case to melt the wax and create a temporary hold and a smooth painting surface. Place your antler patterns inside of the pillowcase and under the freezer paper, making sure to leave enough space between the set for your little one's head to fit. Begin tracing the design with Fabric Markers.
Use different colored markers that will match the paints you plan on using to paint in your design.
Paint in your antler design using Soft Fabric Paints that match your marker outlines.
Once finished, let the design dry completely (laying flat). Your pillowcase will be machine washable after 72 hours.
How cute is this pillowcase?! It's guaranteed to end up on Santa's Nice List!
You'll have one kiddo who will be more than happy to head to bed this holiday season with a reindeer pillowcase this fun!