Easy Couples Costumes Anyone Can DIY with Tulip Tie Dye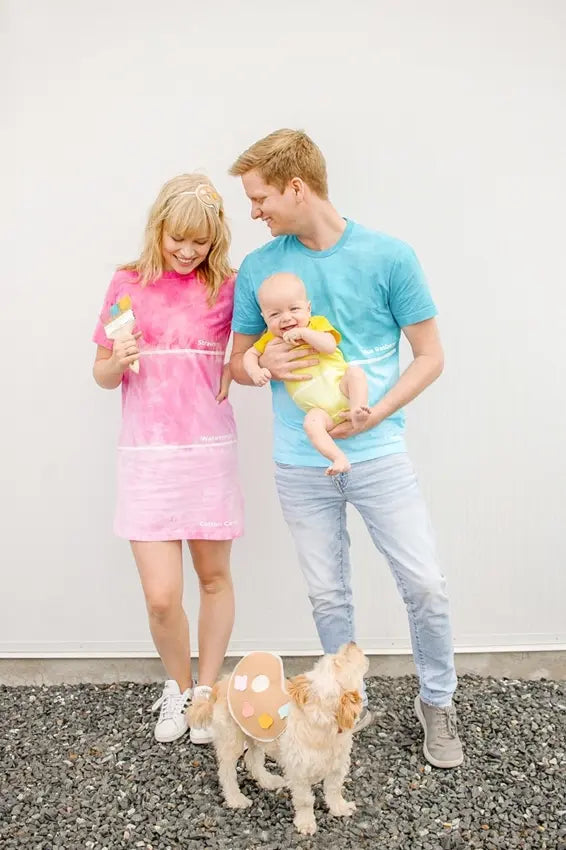 Are you looking for Halloween costumes for you and your boo (and the baby too)? Mikyla Creates will show you how to express your love for all things DIY with matching paint swatch costumes made with Tulip Tie Dye. These picture-perfect paint palettes make great costumes for the whole family—even the dog can get in on the fun!
What you need:
For the Paint Swatches:
      

Painter's tape

      

Paintbrush

      

White fabric vinyl (optional)

      

White cotton clothing (dress, t-shirt, onesie)
For the Paint Palette:
      

Felt (tan, blue, coral, mustard, pink)

      

Scissors

      

White elastic

      

Paint palette printable template
Before you get started on this project, wash the clothing you're about to dye. Mix the dye solutions in your preferred colors by adding water to the dye bottle up to the fill line. Replace the cap and shake for 1 minute or until the dye is completely dissolved.
Form the three sections of your paint swatch on each article of clothing by bunching the shirt vertically and then adding two rubber bands spaced evenly apart. Apply dye on the top section of fabric, checking to make sure dye has penetrated into creases and folds. Dilute the remaining dye with water and apply the solution to the middle section. Dilute the dye with water again and apply to the bottom section of the fabric. This will create a gradient effect on your costume! Cover the dyed fabric with plastic wrap to keep damp and let set for 6 to 8 hours, then wash and dry according to package instructions.
Add two pieces of painter's tape between each section to form lines, and then use white fabric paint between the tape. Touch up the white lines once you take the tape off. Use iron-on vinyl or paint to write the color names on each swatch. Allow paint to dry flat for at least 4 hours.
To create the paint palette, trace the palette template and trace onto felt with a pencil and cut it out. Glue the felt paint splotches onto the palette with Aleene's Ultimate Glue. Then attach your elastic by gluing each end to opposite sides of the back of the felt.
Assemble your matching costumes and get ready for a night of fun! These costumes are perfect for the creative family who loves art and design.
Are you using Tulip Tie Dye to create matching Halloween costumes? Show us how creative you can get! Tag us on social @TulipColorCrafts!