Easy DIY Shark Week T-shirt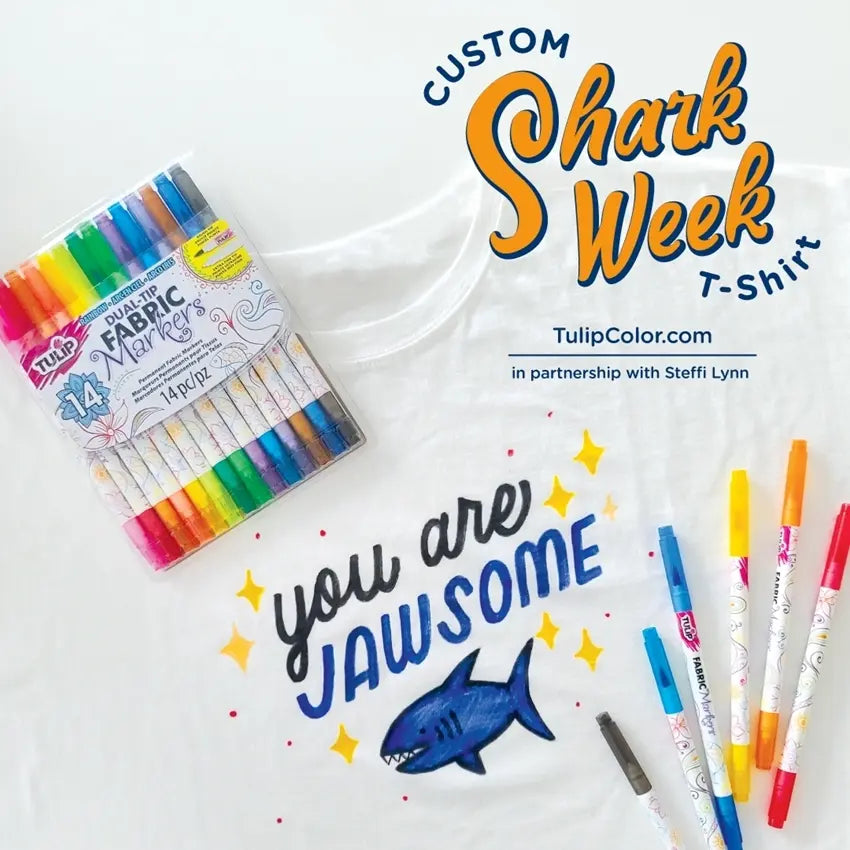 Aside from maybe the week of Christmas, our favorite week of the year is just around the corner, and we're ready to dive right into it! Shark Week airs August 9th through the 16th on Discovery Channel, and to gear up for celebrating all things shark related, we asked our artist friend Steffi Lynn to come up with a fun T-shirt we can wear every day during Shark Week marathoning. Check out this super easy tutorial and get inspired to make your own totally JAWSOME custom shark T-shirt using Tulip® Dual-Tip Fabric Markers. (PS. There's no judgment from us if you want to wear your shirt all week too. You'll be in good company.)
What you need:
- Tulip Dual-Tip Fabric Markers or Fabric Markers of choice
- White cotton T-shirt
- Pattern of choice for tracing
- Ruler
- Pencil
Before getting started, make sure your shirt is clean (without fabric softener) and ironed smooth. Choose whatever marker colors you like for your Shark Week T-shirt design!
Sketch out your T-shirt design onto a piece of paper. You can recreate this "You are JAWSOME" design with your own flair, or create an entirely different one. It's completely up to you! Once you are happy with your shark pattern, trace over it with a black or dark marker so you'll be able to see it through the top layer of your shirt. If you'd like, you can use a ruler to help you center your design and place it exactly where you want it.
Once your Shark Week pattern has been placed under the top layer of your shirt, smooth out your shirt and trace over the pattern in your desired Fabric Marker colors.
Color in and outline designs according to your liking. One you are finished, let the marker ink dry completely. There's no need to heat set with an iron – you can let it air dry!
Now that you have the perfect T-shirt to wear for Shark Week, get ready to take your imagination on completely JAWSOME adventures!