Easy Henna Designs to Try with Tulip Body Art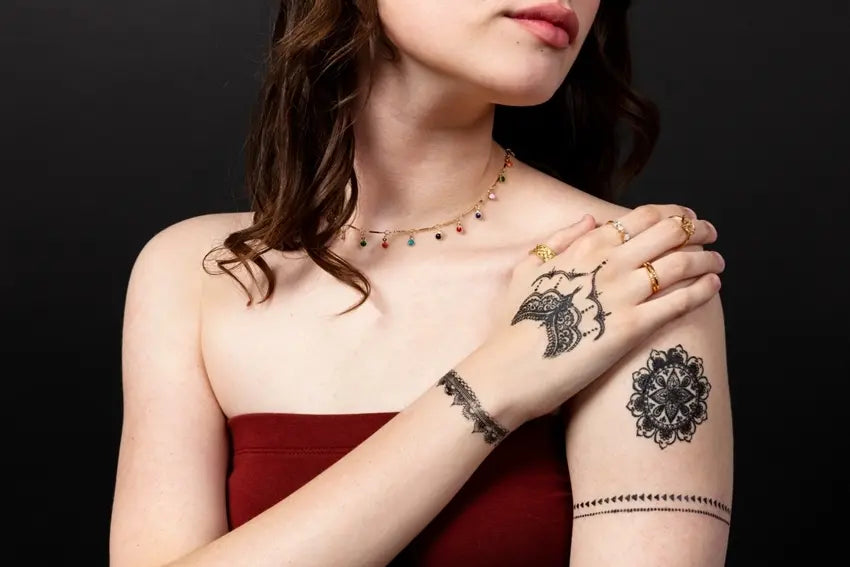 Henna is a great way to adorn your body in unique designs for any occasion! Whether you want to try your hand at freeform designs or take a shortcut with stencils, you'll love how easy it is to decorate yourself in henna-inspired body art with Tulip Body Art Kits! Read on and get inspired to paint easy henna designs with Tulip!
Don't let these ornate designs intimidate you—it's actually simple with the Ultimate Henna Tattoo Kit! You can create easy henna designs with the included stencils and tattoo paint. Since these tattoo paints are henna-inspired, they come off with soap and water; You can change up your designs whenever you'd like!
Recreate this easy henna design in just minutes! This elegant design uses gorgeous metallic body paint and only takes minutes to apply. What's the secret? The Ultimate Henna Color Metallic Tattoo Kit, of course! The shimmering metallic colors in this kit are perfect for formal events like weddings, dinners, galas, and more.
Looking for a fun way to stand out with easy henna designs? You'll love the Ultimate Henna Color Vibrant Tattoo Kit! Use the vivid paints in this kit when you really want to turn heads, like at festivals or parties where you want all eyes on you. The included stencils make application easy, but you can freehand designs too if you want to change things up!
This classic black henna-inspired design is gorgeous! You can create easy henna designs like this with the stencils included in the Ultimate Henna Tattoo Kit. This kit includes black, brown, and white tattoo paint, so try experimenting with the different colors to create a totally unique design!
This easy henna design may not look traditional, but it's just as fun! This tribal-inspired body art can easily be created with your Tulip Body Art Kit of choice. This look is perfect for festivals, parties, costumes, or any occasion that you need a little color to stand out!
How will you use Tulip Body Art for your easy henna designs? Tag us in your creations on social media @TulipColorCrafts!