Easy Painted Summer Sun Hat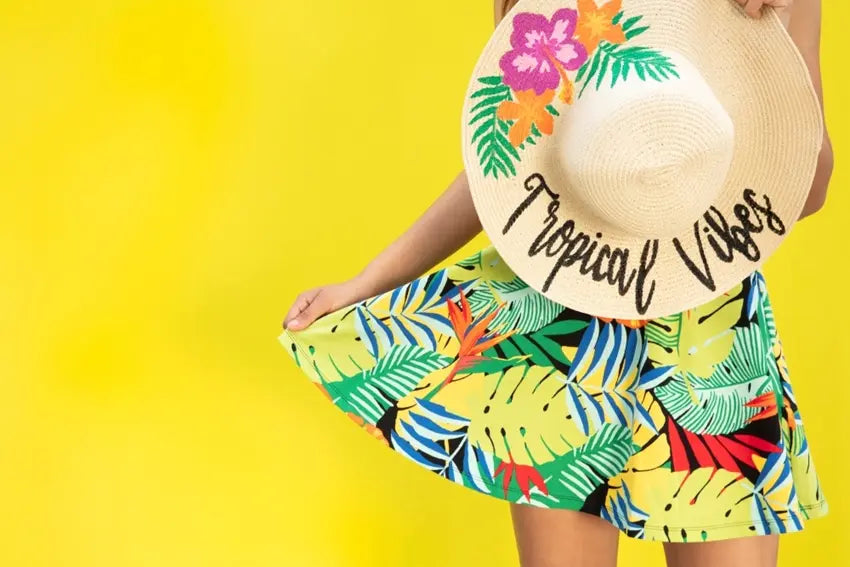 Sunny days are here again! It's finally that time of year for taking activities outdoors and soaking up some sunshine (but not TOO MUCH - don't forget your sunscreen!). A sun hat is an outdoor essential and can also make a fashionable statement, whether you're beach side or brunching on the patio with friends. Make yours stand out with bright colors and summer vibes with Tulip Soft Fabric Paints ... read on to see how easy it is!
What you need:
- Tulip Soft Fabric Paints - colors of choice (we used Matte: Ebony, Petal Pink, Azalea, Crimson Red, Mandarin Orange, Sunshine Yellow, Holiday Green & Glacier White)
- Fabric/straw sun hat
- Paintbrushes
- Paint palette (paper plate or foil, etc.)
- Light-colored marker
First choose your color palette. Since we wanted a tropical theme, we opted for a vibrant mix of colors. 
Use a marker that's similar in color to your hat for creating your design around the brim of the hat. If your hat is made from straw, you can even use a pencil to draw your design.
Start painting over your sketched design. Tulip Soft Paints are super opaque and work over both light and dark fabrics - and each other! Don't be afraid to mix colors or use lighter colors over dark colors for accents and highlights. Once you've finished painting, let dry completely.
Now you have a sun hat that's as fun as it is functional! Time to head outside if for no other reason than to show it off!