Easy Way to Upcycle: Dye Shoes in Magenta Color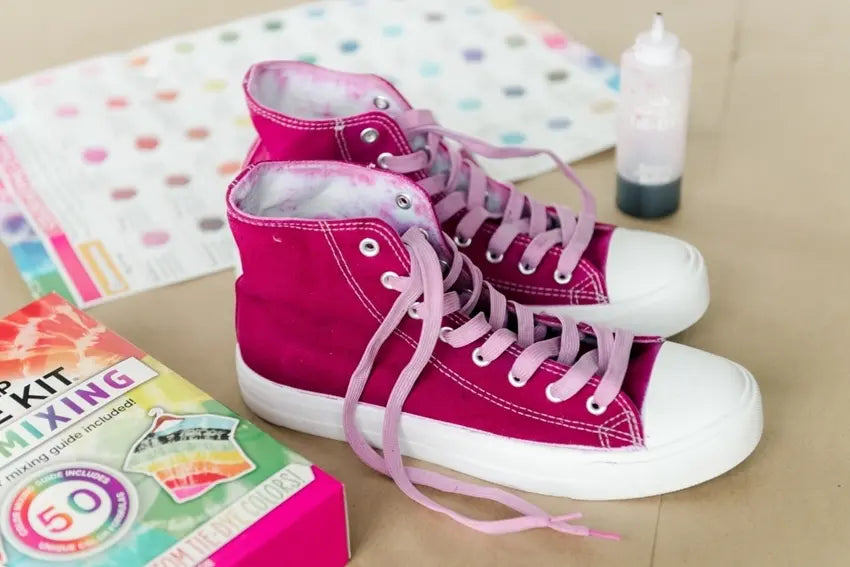 School is almost back in session, so it's time to squeeze in one more tie-dye project for the summer before you head back to school! This project is a great way to update last year's kicks with a brand-new look for the new school year. Oh Yay Studio will show you how to use the Tulip Tie-Dye Color Mixing Kit to create upcycled dye shoes with one-of-a-kind colors— this kit has everything you need to mix and create up to 50 unique colors!
What you need:
Tulip One-Step Tie-Dye Color Mixing Kit
Pair of white or light-colored canvas shoes
Wire rack + sheet tray
Small disposable cups (optional)
Plastic bag
Before you get started on your upcycled tie-dye shoes, wash and thoroughly clean the pair of shoes that you plan on using for this project. Open up your Tie-Dye Color Mixing kit and choose which colors you want to use— there's over 50 unique color formulas to pick from!
Follow the recipes provided on the Color Mixing Chart to mix your colors. Each kit includes big scoops and small scoops to measure the dye powder, plus clean bottles to pour the dye powder into. When you've finished adding the dye mixture into your bottle, fill to the line with water and shake to mix!
 Pro tip: Pour each individual dye packet into a disposable cup for easier scooping!
Now it's time to tie dye shoes with your custom colors! Place the shoes on a wire rack over a sheet tray to catch excess dye. Remove the shoelaces if necessary and pull the tongues out of the shoes so that they are more exposed. Apply dye to the shoes by touching the tip of the bottle to the surface, and slowly squeezing to saturate with color. You can dye the shoelaces too, if you'd like!
Once you've finished applying the dye to your shoes (and laces), place them in a sealed plastic bag and let them sit for at least 8 hours or overnight. Your upcycled tie-dye shoes are almost finished!
Rinse, wash and dry the shoes. Lace up your kicks, and your upcycled tie-dye shoes are ready to wear! Get ready to step into school in style with unique dye colors that you can't get anywhere else.
What custom colors will you create with the Tulip Tie-Dye Color Mixing Kit? If you're wearing your own upcycled dyed shoes when you head back to school, we want to see them! Tag us in your colorful dye projects on social media @TulipColorCrafts!