Fabric Markers Halloween Roundup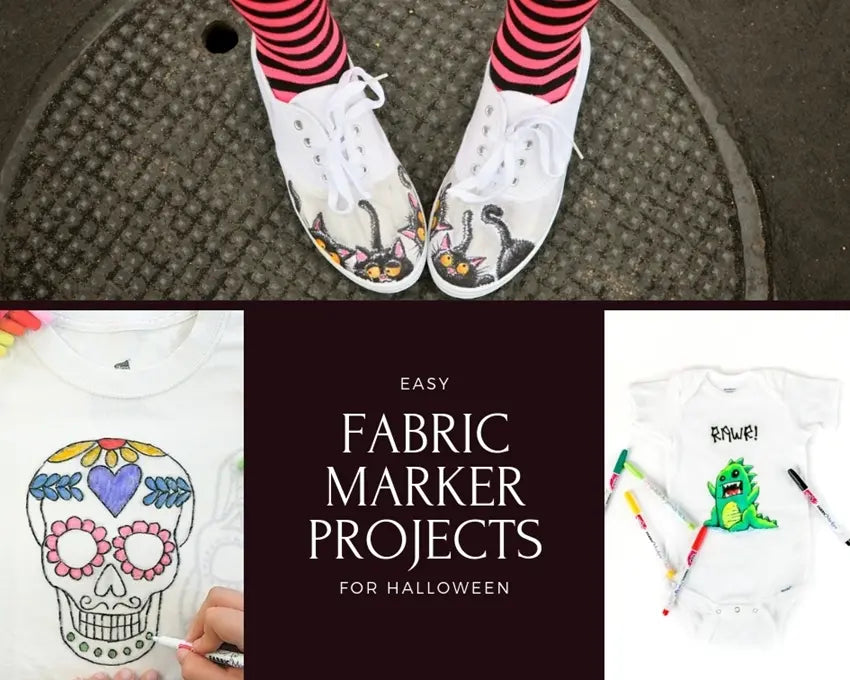 Getting creative for Halloween doesn't have to be complicated or require a ton of expertise. Here are 5 easy Halloween DIYs using Tulip® Fabric Markers® that we think are perfect for getting into a spooky state of mind!
What you need:
- Tulip® Fabric Markers® (desired colors)
- White cotton T-shirt/baby bodysuit
- White canvas shoes
- Canvas wall hanging
Cute with just a hint of oddity, these eyeball shoes are a fun addition to your Halloween look, but cool enough to sport year round as well. Use a black fabric marker to create kicks that'll have all eyes on you!
Don't forget about the tiny tots! This baby monster design is absolutely adorable with a fierce factor that's perfect for sporting on Halloween. Even better, Tulip Fabric Markers are nontoxic, so they're bright, colorful and kid friendly.
If Dia De Los Muertos is more your style, this Calavera T-shirt is so easy to make with the included pattern and tutorial from Vanessa Brady.
For all of the Edgar Allen Poe admirers out there, this Quoth the Raven Banner will add an eerie ambiance to your space for Halloween. This design incorporates a detailed drawing of the poet, but you can simplify it by writing out the poem with a black fabric marker over a dyed background and adding faux ravens or black birds to the hanger.
And because you can never have too many pairs of shoes, here's another set of kicks with creepy black cats that'll keep you comfortable whether you're out trick or treating or doing the monster mash at your Halloween party.