Festival Body Paint Ideas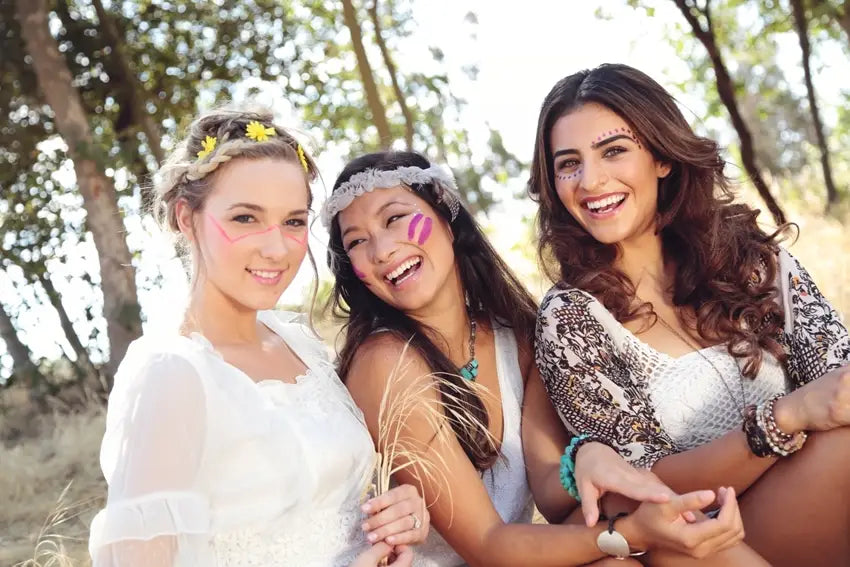 Step on the music scene as a work of art with these festival body paint ideas from Tulip! Using henna-inspired kits, face & body paints, face & body markers and color sticks, it's easier than ever to decorate yourself in temporary body art from head to toe. Get creative, get colorful, and get festival ready with Tulip Body Art!
What you need:
Tulip Body Art products of choice
- Cosmetic brushes
- Water
- Rubbing alcohol/makeup remover
Glitter Festival Body Paint
Shine like a superstar with festival body paints and glitter gels! Freehand paint your own custom designs, or pair with stencils, for sparkling accents that highlight your radiant personality.
Striped Festival Body Paint
Sometimes simple is all you need to take your festival look to the next level. Striped painted accents in bold festival body paint colors will make any outfit pop, whether you're rocking out in the front row or winding down with whimsical tunes.
Tribal-Inspired Festival Body Paint
Throw your hands in the air and jam to the next band with arms covered in fun festival body paint! Create your own tribal-inspired designs in bright colors for an easy way to reach out and touch the stars – on stage or in the sky.
Butterfly Festival Body Art
Spread your wings and let your imagination fly with Tulip Body Art Shimmer Color Sticks! Creating festival body paint designs is as easy as drawing with these vibrant, shimmering crayons with color that glides on smoothly and effortlessly. 
Facial Festival Body Art
Get creative with your festival makeup with painted art that brings out your inner beauty. Accent your cheeks, temples, brows and more with bright festival body paint you'll want to wear long after the music's over.
Black Light Festival Body Paint
Light up the dancefloor with black light body art! Get into your flow with winding designs in bright colors – day or night. Use Back Light Color Sticks to turn yourself into an eye-catching work of art!
Share with Us
How are you and your crew wearing festival body paint? Share your Tulip Body Art creations with us by tagging us on social @tulipcolorcrafts!