Finger Paint Designs for Pumpkins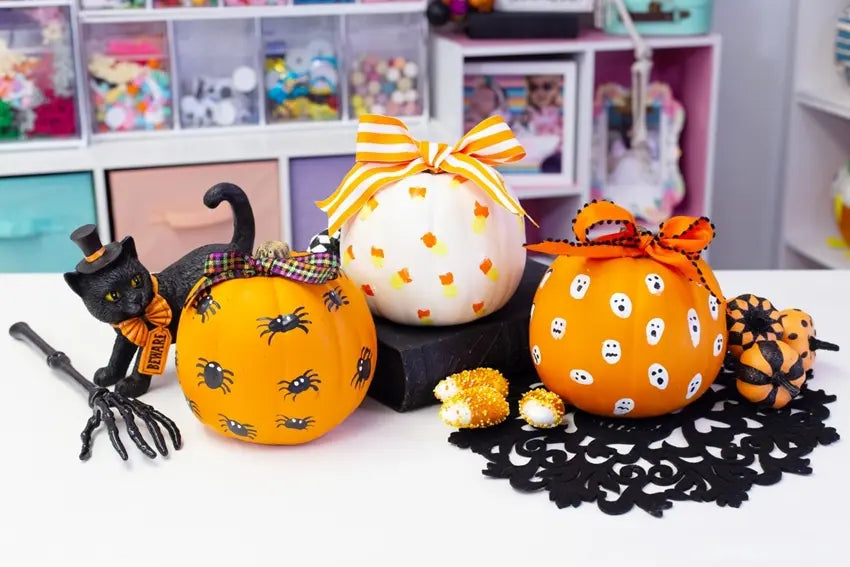 Looking to get your hands on cute pumpkin decorating ideas for kids? These frightfully fun finger paint designs for pumpkins from Craft Box Girls should get you inspired! Use nontoxic Tulip Soft Fabric Paints and your little one's hands for a creative activity that doesn't require any tricks, but is a total treat to do.  
What you need:
Tulip Soft Fabric Paints – black, white, orange, yellow or colors of choice
- Faux pumpkins
- Liner paintbrushes
- Paint palette/disposable plate
- Ribbon
You can't have Halloween without candy corn! Turn everyone's favorite Halloween candy into a colorful finger paint design for pumpkins with orange, yellow and white paint. Paint a stripe of each color onto your child's finger as shown.\
Next press fingers with paint stripes onto the pumpkin, working your way around the pumpkin until you are happy with the designs. Let dry completely.
Once the pumpkin is dry, top it with a fun matching bow to finish your colorful candy corn design for pumpkins!
For finger paint spider designs for pumpkins, dip your child's finger in black paint, then press onto the pumpkin. (This will be the body of each spider.) Continue around the pumpkin, creating as many spider bodies as desired.
Next use a liner paintbrush to create four legs on each side of each spider's body. Let dry.
Once the spider bodies are dry, dip the tip of your paintbrush into white paint and create eyes on each spider.
After the paint is dry, top your pumpkin with a bow to complete your spider designs for pumpkins!
How about BOO-tiful ghost designs for pumpkins next? As done with the spiders, dip your child's finger in white paint, then press onto the pumpkin. Continue around the entire pumpkin.
Once the white paint has dried, use your liner brush to paint eyes and mouths on each ghost with black paint.
Top with a bow, and your ghosts design for pumpkins will have everyone in the fam screaming with delight!
\
Don't you love how these finger paint designs for pumpkins turned out? Your kiddos will have a scary good time getting creative this Halloween with Tulip Soft Fabric Paints! Make sure to share your own painted designs for pumpkins with us by tagging us on social @tulipcolorcrafts. Happy Halloween crafting!