Friendsgiving Painted Shoes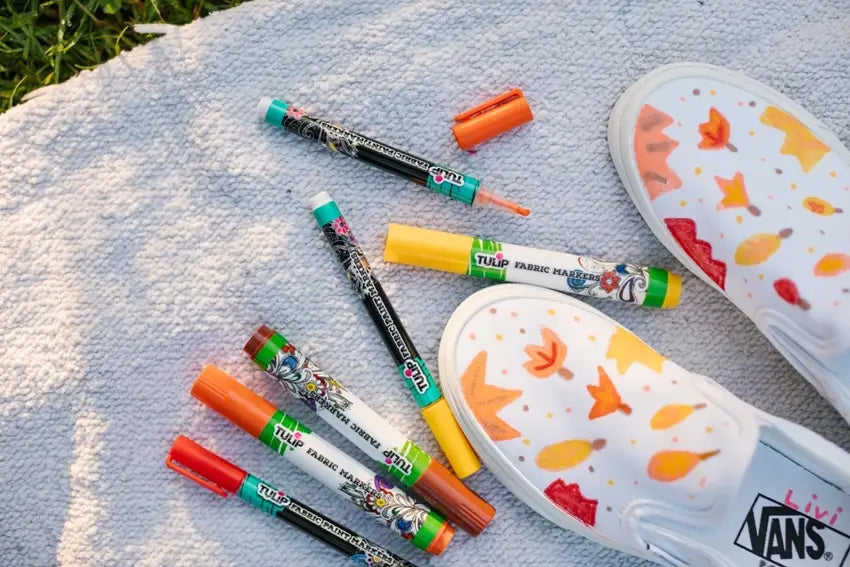 Looking for a kid-friendly activity for your Friendsgiving party? Once you're done with dinner, get inspired with Beijos Events and try making these adorable painted shoes using Tulip Fabric Paint Markers! This quick craft is great for the whole family—all you need is a pair of white shoes, our markers, and your imagination!
What you need:
·       Clean white shoes
This project is super easy, and great for kids of all ages too! Start off with a pair of clean white shoes and grab your favorite Tulip Fabric Paint Markers. For fall-themed designs, stick with warm tones like red, orange, yellow, and brown. Be sure to shake each marker with the cap on before each use!
Draw! Try drawing lots of leaves in different colors to really capture the essence of autumn, or let your imagination run wild and draw on whatever designs your heart desires!
Allow your doodles to dry completely, and your shoes are ready to go! Kids will love being able to wear their own creations on these customized kicks.
Are you customizing your wardrobe with Tulip Fabric Paint Markers? Show us your creations on social @TulipColorCrafts!