Glow in the Dark Pumpkins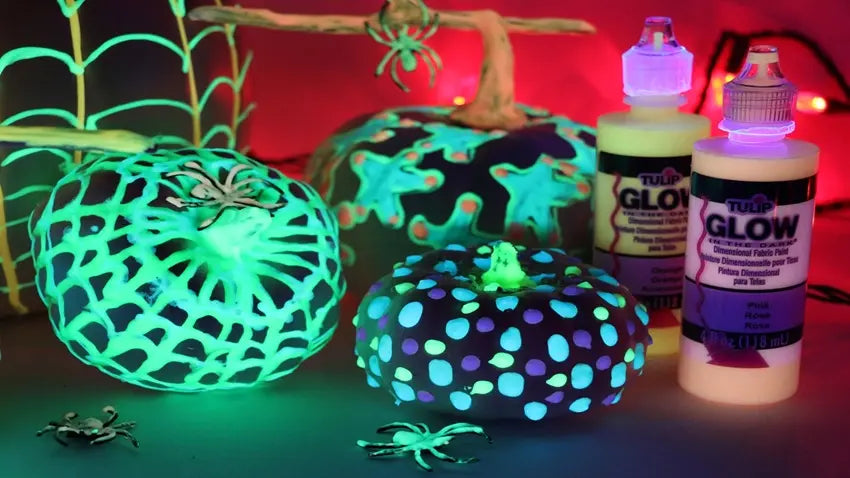 It's almost Halloween and you know what that means!!! TIME FOR PUMPKINS! Not just regular pumpkins, GLOW IN THE DARK PUMPKINS!
Every year I look forward to buying tons of plastic pumpkins and creating new designs. I like the artificial pumpkins for the simple fact that they will last forever. You can store them in nice containers and re-use them year after year. How great is that!

Tulip has an amazing glow in the dark paint that is the great. This craft is great for kids to do and you will watch the amazement on their face when you put them under or near a black light! Let's get started!

Update: Since this glow pumpkin was posted, it's become the most popular post on our blog! YAY! You can also check out some more pumpkins I did HERE!
What you need:
Plastic Pumpkins (Real ones will work as well but you will eventually have to throw them away, keep that in mind)
Step One: Gather all of the Glow in the Dark paints that you want to use...here's a great KIT if you want a lot of colors to play with. I like adding all of the colors and creating a cluster of pumpkins. The more the merrier!
Step Two: If you purchased artificial pumpkins I suggest painting them white. This is optional however the glow in the dark paint looks great on white pumpkins even when not under a black light. 
Step Three: If you purchases pumpkins with long stems you can easily cut it off and paint the tip to make it look more like a normal stem. This is optional. I used acrylic paint for my pumpkins but keep in mind you will have to add 2-3 coats in order to get a full coverage. 
Step Four: Once your pumpkins are dry you can create all the designs you want on your pumpkins. I wanted to make this batch fun and whimsical so I added dots, stars and spiderwebs with the Tulip Glow Paint!
Step Five: To create this spider web effect you simple draw lines from the top of pumpkin stem to the bottom of pumpkins then connect each lines with little frowned smiles (at least that is my best explanation).  
How cool do these look in the end! It's so amazing seeing how they look when not under a black light then seeing them under that black light! It's night and day. This is also a fun project for the whole family. Everyone can create their own pumpkin then in the end you have a family of them that you can keep forever.  Just keep adding to your bunch every year! 
Another tip is if you have a black light, set it up and apply your paint while under the black light. You can really see the full effect of the colors by doing this. This is optional however!
This a great project to express your true personality. If you love polka dots, stripes, squares, x's and o'x or any other design now is the time to bring them out of your head and onto the pumpkins. Another fun tip you can do is paint the stem with 
Glow in the Dark Paint
. It makes a huge difference when under the black light. 
How beautiful do our paints look under a black light! Great tip to do before getting started is put all the colors you purchased under a black light so you can see the full color effect before you create your pumpkins. The colors change drastically so this is great to do. 
Putting them to the actual test, under a black light. I am so pleased with how they came out. This Glow in the Dark paint is magnificent! I love how each color lights up differently.  I think the green paint is my favorite. To me, it actually shows up the best under a black light. 
Keep in mind you will not always have the pumpkins under or around a black light so I wanted to show you a picture of what they look like in normal light. I personally think they are just as beautiful. 
I love adding embellishments to the pumpkins and nothing screams Halloween like spiders. Add a little paint on your spiders and they will add a nice touch to pumpkins. 
Don't you just love how they came out! You can make necklaces with these spiders, earrings, rings or even a cute banner!
I think it's fascinating how different they look with and without the black light!
Quick Tip: If you plan on making multiple pumpkins that will all go together, I suggest getting different sizes to put all together.